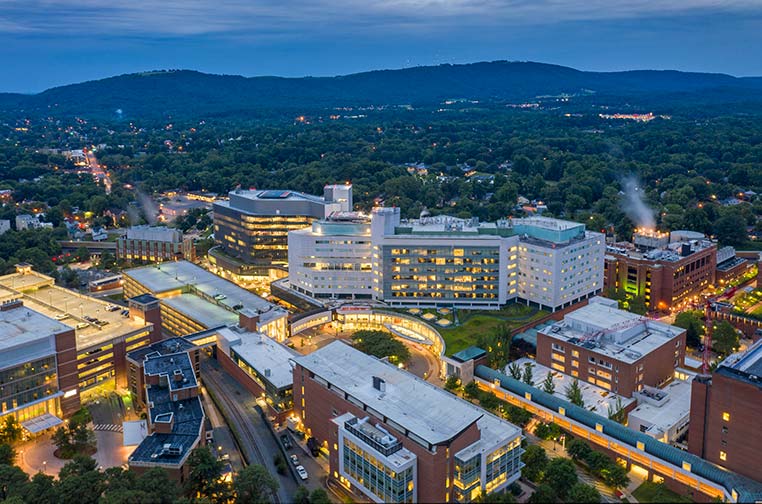 UVA Health has received a $50,000 grant from Truist Foundation to expand its "Earn While You Learn" program, which provides local residents with paid, on-the-job training to jumpstart a healthcare career.
"Our neighbors across Central Virginia deserve the chance to build a career at UVA Health that provides them with opportunities for growth and advancement," said Wendy Horton, PharmD, MBA, chief executive officer of UVA Medical Center. "At the same time, this program will help us find talented team members who can help us expand our services to care for even more Virginians. We thank Truist Foundation for its support of this valuable program."
Together with community partners at Piedmont Virginia Community College and the Charlottesville-Albemarle Technical Education Center, Earn While You Learn is training local residents to become emergency medical technicians, pharmacy technicians, certified nurse assistants, phlebotomists (blood sample collectors) and medical assistants. The minimum requirement for the program is a high school diploma or GED; no healthcare experience is required. The Truist Foundation grant will be used to help expand the program's outreach to potential participants whose first language is not English.
Since the first training program formally launched earlier this year, more than 45 local residents have enrolled in these on-the-job training programs. In the coming months, UVA Health is looking to expand the program to provide training for sterile processing technicians along with building career pathways for participants once they complete their initial training.
"At a time when there's a growing need for healthcare professionals, UVA Health's 'Earn While You Learn' is an exceptional program that breaks down the financial barriers of entering the field by incentivizing applicants with paid hands-on training," said Thomas Ransom, Virginia regional president for Truist. "Our support of UVA Health's program is providing inclusive access to educational programming and career paths that are critical to advancing economic mobility and our own community's healthcare, and it's how we fulfill Truist's purpose to inspire and build better lives and communities."
UVA Health is about to begin hiring for the next round of Earn While You Learn classes that will begin in October. For more information about Earn While You Learn, please visit hr.virginia.edu/careers-uva/job-openings/earn-while-you-learn or call 434.982.0006.
About Truist Foundation
The Truist Foundation is committed to Truist Financial Corporation's (NYSE: TFC) purpose to inspire and build better lives and communities. Established in 2020, the foundation makes strategic investments in nonprofit organizations to help ensure the communities it serves have more opportunities for a better quality of life. The Truist Foundation's grants and activities focus on leadership development, economic mobility, thriving communities and educational equity. Learn more at Truist.com/Purpose/Truist-Foundation.