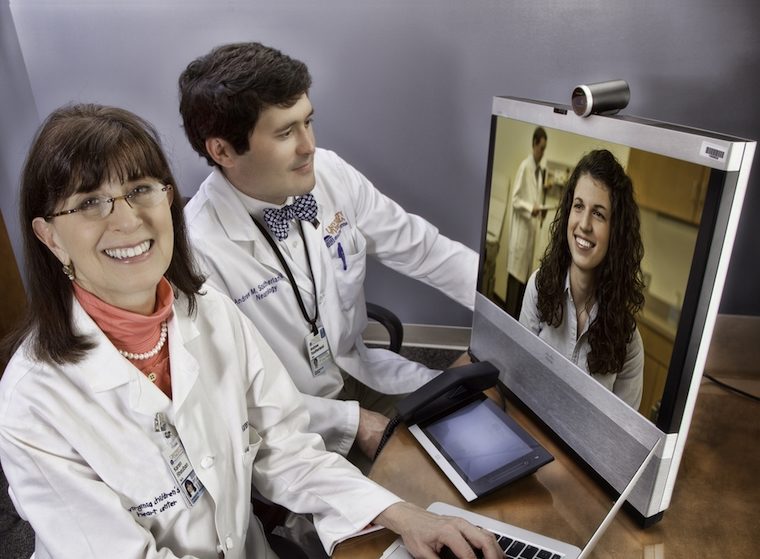 UVA Health and a coalition of Southwest Virginia healthcare groups are partnering to better combat health problems related to the COVID-19 pandemic, backed by a $5.1 million federal grant that will expand the region's access to care.
The Virginia Consortium to Advance Healthcare in Appalachia will bring together the UVA Center for Telehealth, the Healthy Appalachia Institute at the University of Virginia's College at Wise, the Southwest Virginia Health Authority, the Health Wagon, Tri-Area Health and Ballad Health to help more residents get care using innovative telehealth models.
Their goal: improve outcomes for patients with COVID-19 and chronic health conditions that have been worsened by the pandemic, along with establishing a long-term blueprint for providing care in rural communities.
"We look forward to working with our colleagues at the Healthy Appalachia Institute at UVA Wise, the Southwest Virginia Health Authority and with partner healthcare systems and providers across the region to develop a contemporary strategic plan, a 'Blueprint for Health and Health Related Prosperity,'" said Karen S. Rheuban, MD, director of the UVA Center for Telehealth. "Funding from the U.S. Department of Agriculture will also enable us to begin to implement the blueprint, to expand access to care through telehealth tools and provide training for a broad range of healthcare professionals."
Limited Access, Worse Health Outcomes
The consortium will serve the city of Norton and 10 counties – Buchanan, Carroll, Dickenson, Grayson, Lee, Russell, Scott, Smyth, Tazewell and Wise – that have severe shortages of physicians for both primary and specialty care and significantly worse health outcomes than elsewhere in Virginia.
Compared with the rest of Virginia, adults ages 35 to 64 in these localities are:
30% more likely to die earlier
21% more likely to die from heart disease
14% more likely to die from diabetes
35% more likely to die from chronic obstructive pulmonary disease
10% more likely to die from stroke
"There is an urgent need for community-academic partnerships such as this one to assess and respond to health inequities in Virginia's Appalachian communities," said David L. Driscoll, PhD, MPH, director of the Healthy Appalachia Institute. "Our Consortium is committed to understanding, and most importantly, responding to the determinants of population health disparities in Appalachia, including adequate access to comprehensive public health and medical services."
Expanding Access with Technology
Interactive home monitoring: An expansion of a successful telehealth initiative, this program provides patients with internet-connected tablets and medical equipment such as blood pressure cuffs, thermometers and scales. Through the program, patients can monitor cardiovascular disease risk factors such as weight and blood pressure at home, as well as connect for virtual care visits, cardiac rehabilitation programs and health education videos.
Virtual urgent care: Originally launched in response to the COVID-19 pandemic, this program enables sick patients with non-emergency conditions to be seen virtually from home instead of needing to travel long distances to the nearest Emergency Department.
Safer isolation care in hospitals and outpatient clinics: The grant will support the expansion of UVA Health's Isolation Communication Management System to help care for patients with COVID-19 and other communicable diseases. The secure audiovisual system allows for communication with patients in isolation as well as care providers inside the room. This limits the number of healthcare providers who need to enter an isolation room, conserves personal protective equipment and reduces the risk of spreading infections.
Post COVID-19 care: UVA Health will expand its post-COVID care clinic to Southwest Virginia using telehealth technology to help patients with long-term symptoms recover. To date, about 70% of patients treated through the clinic have made a full recovery.
Virtual mental healthcare and chronic disease management: Two state-funded programs will be expanded in the region: The Virginia Telemental Health Initiative provides virtual mental health services, while InnoVAte supports chronic disease management and prevention.
Healthcare provider education and virtual consults: UVA Health's Project ECHO will provide training to healthcare providers in the region on COVID and post-COVID care, interactive home monitoring and caring for patients in isolation. Healthcare providers in the region will also be able to access UVA Health's eConsults program, which enables providers to consult with UVA specialists via the electronic medical record system.
"This consortium, led by Dr. Rheuban and her colleagues at UVA Health, is exactly the type of strategic initiative the Southwest Virginia Health Authority seeks," said Del. Terry Kilgore, Chair of the Southwest Virginia Health Authority. "Improving access to health care in Southwest Virginia through broad-based consortiums will increase health care outcomes and improve the quality of life of the people of Southwest Virginia. This project will create models that support rural health care, expand evidence-based models in telehealth to improve access to care, health outcomes and regional partnerships for resource sharing, equipment deployment, training and education, as well as update our regional Blueprint for Health."
The consortium is being supported through funding from the U.S. Department of Agriculture's Emergency Rural Health Care Grants program.
"I'm thrilled this federal funding, which I fought to secure, will go towards helping Southwest Virginia communities access critical telehealth services and be used to collaborate with UVA Health's Project ECHO – a program I've long worked to boost," said Sen. Tim Kaine. "This funding is going to make a huge difference in helping people in Southwest Virginia tackle COVID and other chronic health conditions."