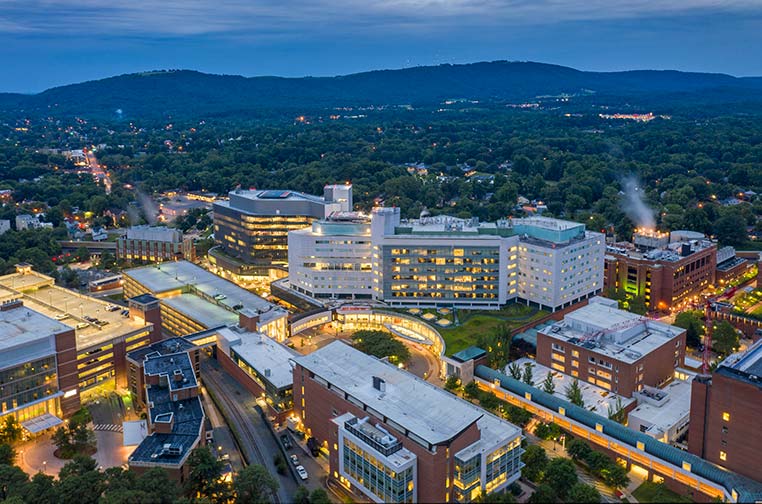 To make it easier for residents of Eastern Virginia to access innovative care for complex medical conditions as well as the latest clinical trials, Riverside Health System and UVA Health have today announced a strategic alliance to expand patient access to innovative care for complex medical conditions, transplantation and the latest clinical trials. Under the agreement, Riverside and UVA Health will collaborate in multiple areas including clinical program development, research and medical education.
To ensure a long-term, mutually beneficial alliance, the agreement provides UVA Health with 5% ownership in Riverside, and in turn, UVA Health has committed to financial and clinical resources to assist in growing local services in Eastern Virginia. UVA Health and Riverside will each retain their existing governance and administrative structures.
The affiliation enhances care coordination in several care areas, including adult and pediatric transplantation while advancing efforts to educate and train the next generation of clinicians through a common commitment to medical education, research and innovation.
"Together, Riverside Health System and UVA Health will continue to bring an exceptionally high level of health care to Eastern Virginia," said Mike Dacey, MD, Riverside Health System's president and chief executive officer. "We are looking forward to our expanded partnership in clinical services starting with cardiothoracic surgery. Strategic affiliations with Academic Medical Centers have been a part of our strategic plan for the past four years. This affiliation advances the expertise of our respective clinical teams and provides patients with expanded access to the latest technologies and procedures to improve health outcomes and quality of life." 
"In UVA Health's new strategic plan, our mission is to transform health and inspire hope for all Virginians and beyond. Partnerships like our new alliance with Riverside Health System make it easier for Virginians with complex health conditions to receive the care they need close to home," said K. Craig Kent, MD, UVA Health's chief executive officer and executive vice president for health affairs. "We look forward to closely collaborating with Riverside's exceptional leadership, physicians, and team members on a wide range of clinical care, research and educational initiatives."
The new affiliation builds on a longstanding relationship between the two health systems that began in 2005 with the launch of a Newport News-based stereotactic radiosurgery center that uses precisely focused, high-energy beams of radiation to treat brain tumors, pituitary tumors and other conditions.
"UVA's new strategic partnership with Riverside will enable greater access to outstanding patient care and medical training for communities in Eastern Virginia. We're delighted to continue our longstanding relationship with Riverside and better serve the citizens of the Commonwealth," said University of Virginia President James E. Ryan.
About Riverside Health System
Riverside Health System (RHS) is an integrated health network providing over 2 million patient encounters annually. Serving Eastern Virginia since 1915, Riverside is guided by a mission to "care for others as we would care for those we love." The health system offers a variety of services and programs in the areas of prevention, primary care, urgent care, diagnostics, neurosciences, oncology, orthopedics, aging-related services, rehabilitation, medical education, home care and hospice. RHS operates four acute-care hospitals with more than 600 inpatient beds and a behavioral health hospital, in addition to a physical rehabilitation hospital and a critical illness recovery hospital in partnership with Select Medical. Riverside Medical Group has more than 750 physicians and advanced practice providers across a broad spectrum of specialties in over 100 locations throughout the region. Riverside Lifelong Health operates six nursing home facilities and three vibrant continuing care retirement communities alongside Riverside Home Health and Hospice services. In addition to these health care services, RHS operates the Riverside College of Health Careers and four medical residency programs. The company employs more than 9,000 team members throughout Eastern Virginia. For more information on Riverside, visit riversideonline.com.
About UVA Health
UVA Health is an academic health system that recently expanded to include four hospitals across Charlottesville, Culpeper and Northern Virginia, along with the UVA School of Medicine, UVA School of Nursing, UVA Physicians Group and the Claude Moore Health Sciences Library. With more than 1,000 inpatient beds, approximately 40,000 inpatient stays annually and more than 1 million outpatient encounters annually at UVA Health, more than 1,000 employed and independent physicians provide high-quality, comprehensive and specialized care to patients across the Commonwealth and beyond. Founded in 1819 as just the 10th medical school in America, the UVA School of Medicine – with 20 clinical departments, eight basic science departments and six research centers – consistently attracts some of the nation's most prominent researchers to develop breakthrough treatments to benefit patients around the world. Those research efforts are backed by more than $200 million in grant funding. UVA Health Children's is recognized as the No. 1 hospital in Virginia for children by U.S. News & World Report, with nine specialties rated among the top in America. More than 230 UVA physicians are honored on the Best Doctors in America list. For more information, including UVA Health's 10-year Strategic Plan, as well as resources, visit uvahealth.com and follow us on social media.