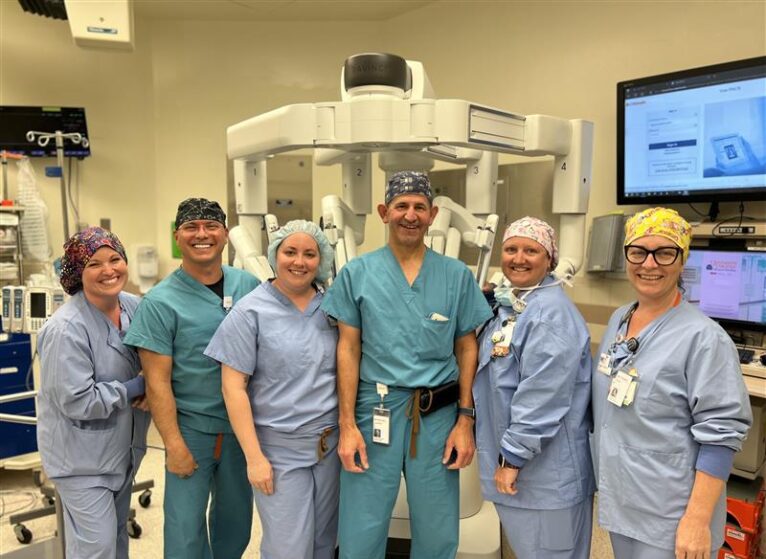 UVA Health Culpeper Medical Center has expanded its surgical services to include robotic-assisted surgery with the implementation of a new robotic-assisted surgical system. Robotic-assisted surgeries are minimally invasive, and offer patients less pain during recovery, lower risk of infection, reduced blood loss, shorter hospital stays, and smaller scars.
The new robot allows the medical center to further invest in the benefits and outcomes of robotic-assisted surgery. With the expansion of the robotic-assisted surgical program, patients can now receive innovative treatments locally without needing a referral or the need travel to another facility.
"Providing robotic-assisted surgical care to our patients greatly improves their recovery and allows them to return to living their healthiest lives sooner," said Leonardo Espinel, MD, general surgery, UVA Health Culpeper Medical Center. "The expansion of our surgical program demonstrates our commitment to providing cutting-edge technology that allows our patients to recover faster and with less pain."
UVA Health Culpeper Medical Center has been transforming care with recent innovations including the new linear accelerator, which began treating radiology oncology patients in July, and the transition to their new electronic medical records systems, which integrates all UVA Health medical centers, provider offices and specialty care centers to seamlessly coordinate care of patients across UVA Health.
UVA Health Culpeper Medical Center will use the robotic-assisted surgical system for abdominal surgeries that include, but are not limited to, gallbladder conditions, abdominal wall and inguinal hernias, hiatal hernias, acid reflux surgery, stomach and esophagus surgery, and bowel surgery (including colon, small bowel, and rectum).
"I'm thrilled that UVA Health Culpeper Medical Center now has robotic-assisted surgery," said Donna Staton, chief operations officer, UVA Health. "Keeping our patients in their community for all of their care is an important part of UVA Health's strategic goal to provide access to the highest-quality and safest care to our community."