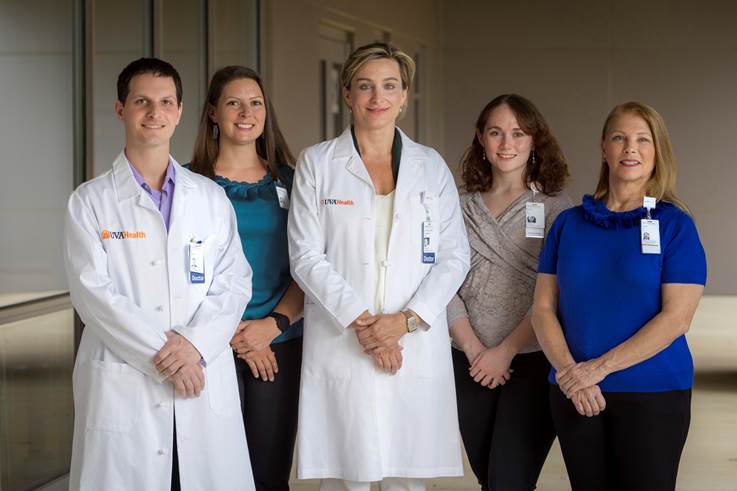 The UVA Health Haymarket Medical Center Bariatric Program today announced it has achieved accreditation as a comprehensive center from the Metabolic and Bariatric Surgery Accreditation and Quality Improvement Program® (MBSAQIP) in partnership with the American Society for Metabolic and Bariatric Surgery (ASMBS). This national accreditation reflects the high standards set by the ASMBS for metabolic and bariatric surgery to assist patients with obesity in identifying centers that provide optimal patient care.
The MBSAQIP Standards, Optimal Resources for Metabolic and Bariatric Surgery, published by the ASMBS under the American College of Surgeons, ensure that metabolic and bariatric patients receive multidisciplinary medical care, which improves patient outcomes and long-term success. MBSAQIP-Accredited centers offer preoperative and postoperative care designed specifically for patients with obesity.
UVA Health Haymarket Medical Center's commitment to quality bariatric care is led by expertly trained staff and the leadership of experienced bariatric surgeon, Elizabeth Zubowicz, MD, FACS, FASMBS, bariatric program surgical director, and Aaron Sachs, MD, MD, DABS, FACS, bariatric surgeon. The program undergoes periodic review of surgical data and an annual quality improvement initiative to continually improve the structure of the program and provide high-quality care to metabolic and bariatric patients.
In addition to UVA Health Haymarket Medical Center earning accreditation, Dr. Zubowicz earned accreditation as a MBSAQIP-verified surgeon. Criteria for this accreditation include completing yearly bariatric-specific continuing medical education, attending quality meetings annually, and performing a minimum number of bariatric surgery cases a year.
"The UVA Health Haymarket Medical Center Bariatric Center and the work of Dr. Zubowicz and the team have raised the bar for bariatric care in Northern Virginia," said Zan Zaidi, MD, Chief Medical Officer, UVA Community Health. "The care provided to our bariatric patients has always been high-quality, but this national accreditation demonstrates that UVA Health Haymarket Medical Center meets the highest standards for patient safety and quality, and furthers our mission to transform health and inspire hope for Virginians and beyond."
To earn MBSAQIP Accreditation, the UVA Health Haymarket Medical Center Bariatric Program met essential criteria for staffing, training, facility infrastructure and patient care pathways, ensuring its ability to support patients with obesity. The program also participates in a national data registry that yields semiannual reports on the quality of its surgical outcomes and identifying opportunities for quality improvement.
"I am honored to have the opportunity to provide bariatric care to our patients and for UVA Health Haymarket Medical Center to earn this important recognition for the work we do," said Dr. Zubowicz. "Bariatric care encompasses whole-patient care. While we do provide surgery for patients who are candidates, we also work with patients on managing chronic diseases by providing tools to improve their overall health."
After applying for MBSAQIP accreditation, centers undergo an extensive site visit by an experienced bariatric surgeon who reviews the center's structure, processes, and clinical outcomes data. Centers that earn accreditation are awarded a specific designation level, depending upon how many patients it serves annually, critical care capabilities, and the types of procedures provided. UVA Haymarket Medical Center now has accreditation as a Comprehensive Center of Excellence.
Though patients of the program have surgical procedures performed at UVA Health Haymarket Medical Center, Dr. Zubowicz, Dr. Sachs, and their team see patients at offices in Haymarket, Warrenton, and soon Manassas, to ensure patients spanning the Prince William, Fauquier, and Culpeper geographies can have pre- and post-operative care closer to home.
For more information about the UVA Health Haymarket Medical Center Bariatric Program and surgeons, Dr. Zubowicz and Dr. Aaron Sachs, MD, visit UVA Health Surgical Care Haymarket.