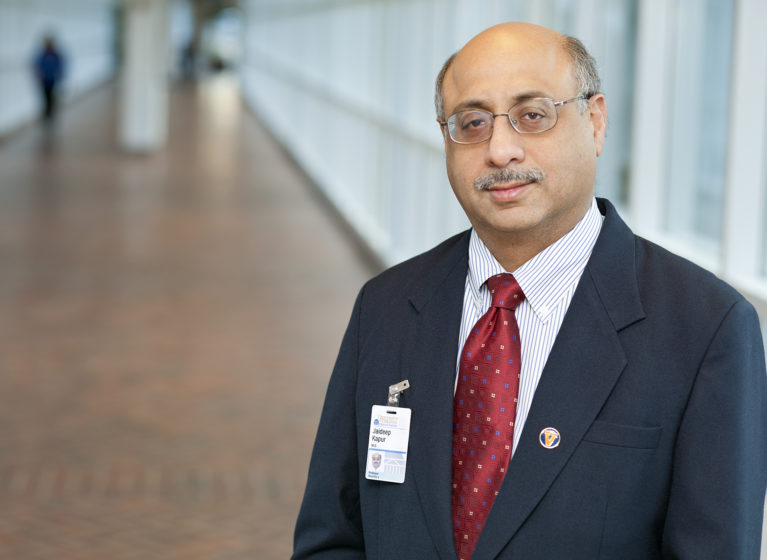 Researchers at the University of Virginia School of Medicine are launching a major clinical trial to determine the best medication to save people from potentially deadly prolonged seizures, known as status epilepticus, when other drugs have failed.
"This is a very severe, sometimes life-threatening seizure," explained lead investigator Jaideep Kapur, MD, PhD, of the UVA Department of Neurology. "Status epilepticus is a seizure that doesn't stop."
Kapur has received a $21.4 million grant to conduct the five-year trial from the National Institutes of Neurological Disorders and Stroke. Forty trial sites will test the three medications most commonly administered when initial treatments for status epilepticus have failed. As of now, there is no clear understanding of which is best, so the trial has the potential to revolutionize the treatment of these patients.
About status epilepticus
Status epilepticus most often occurs in people who have suffered neurological damage, such as from brain trauma, strokes or infections, and in people with a history of epilepsy. It is typically treated with drugs called benzodiazepines, but approximately a third of patients do not respond to benzodiazepines. In those cases, the condition is referred to as "established status epilepticus," and doctors typically resort to one of three drugs: fosphenytoin, levetiracetam or valproic acid.
Kapur and his team are out to determine which of those three is the most effective and which is the least effective, along with the side effects of each. They plan to evaluate up to 795 patients treated with one of the drugs at the 40 participating hospitals. "The ultimate benefit is to reduce the brain damage that can occur, reduce admissions to the ICU [intensive care unit] and reduce the chances of death," Kapur said.
Backup for benzodiazepines
Patients who do not respond to benzodiazepines will be given one of the three standard drugs. Doctors will then document their responses. If differences in the drugs' effectiveness and side effects emerge after at least 400 people have been treated, more patients will receive the drug that appears to be working best.
Because patients suffering from the seizures are incapable of consenting to be in the trial, Kapur and his colleagues at the participating academic health systems are reaching out to their local communities and epilepsy groups to inform them about the trial and seek their support. Adults and children 2 and older will be enrolled in the trial, but the parents and legal guardians of children will be allowed to decide if they wish their child to participate.
While Kapur and his colleagues may enroll up to 795 patients, they may not need that many – they plan to end the trial as soon as they have conclusively determined the best option, so that they can share their findings with physicians all the sooner and so that patients can be treated with the most effective drug possible.