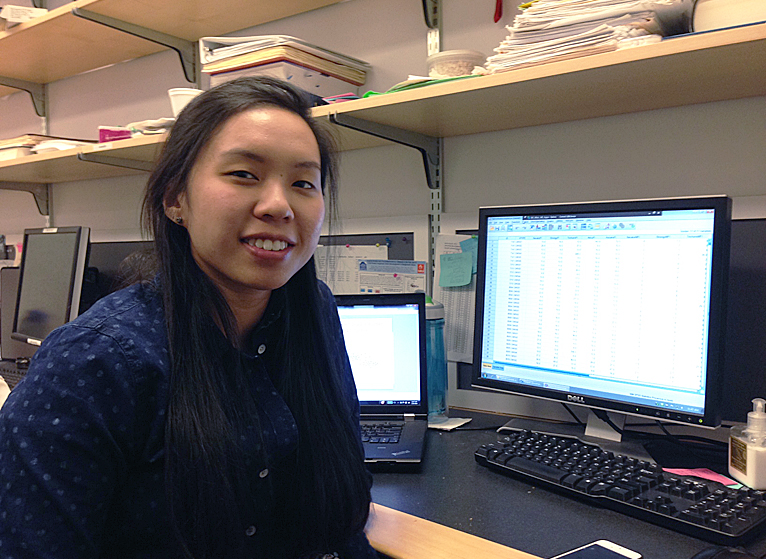 A first-year student at the University of Virginia School of Medicine has won two prestigious national awards that will support her work with malnourished children in the slums of Bangladesh.
Nona Jiang , of Burke, Va., is researching the development of children in Dhaka, the capital of Bangladesh, an area of study she became interested in while still an undergraduate at UVA. Her work has been recognized by both the Alpha Omega Alpha (AOA) Honor Medical Society, which awarded her its Carolyn L. Kuckein Student Research Fellowship, and the Infectious Diseases Society of America, which presented her with its Medical Scholars Award.
"I am honored and thrilled to have received these awards," Jiang said. "The support from these awards will allow us to further investigate how exposure to adversity impacts the developing brain. I am extremely grateful for the opportunity to continue to be involved in this work."
While Jiang's work examines children in Bangladesh, her research into the effect of the immune system on infant development could benefit children around the world. Despite having just started medical school, she's already contributed to three published scientific papers, serving as the primary author of one that identified excessive inflammation as a cause of impaired development. Since impaired development fosters the cycle of poverty in many countries, finding ways to stop it could have tremendous impact.
"Nona Jiang has fundamentally changed the way that we think about infant neurodevelopment in the developing world," said her mentor, William Petri Jr., MD, PhD, chief of UVA's Division of Infectious Diseases and International Health. "She identified inflammation from chronic infections as a risk for poor cognitive, motor and language development. Her work upset the prevailing wisdom in this field. Her work promises to enable new approaches to protect brain development in vulnerable infants in the urban slums of low-income countries. Because of the work that Nona in conducting in both Dhaka, Bangladesh, and Charlottesville, a new grant was awarded jointly to Harvard and the University of Virginia by the Bill & Melinda Gates Foundation to pursue her discovery. It is this work that she will continue as part of the AOA and IDSA awards."
About the awards
The Carolyn L. Kuckein Student Research Fellowship carries a $5,000 award, with $1,000 available to pay for travel to a conference to present research findings. The fellowship aims to encourage and bolster student research.
The Medical Scholars Program of the Infectious Diseases Society seeks to attract the best and brightest medical students to the field of infectious diseases. Each scholarship recipient receives $2,000 and membership in the society.
Jiang conducts her research as part of a collaboration of Petri's lab with the lab of Chuck Nelson, PhD, at Boston Children's Hospital (Harvard) and the International Centre for Diarrhoeal Disease Research, Bangladesh.