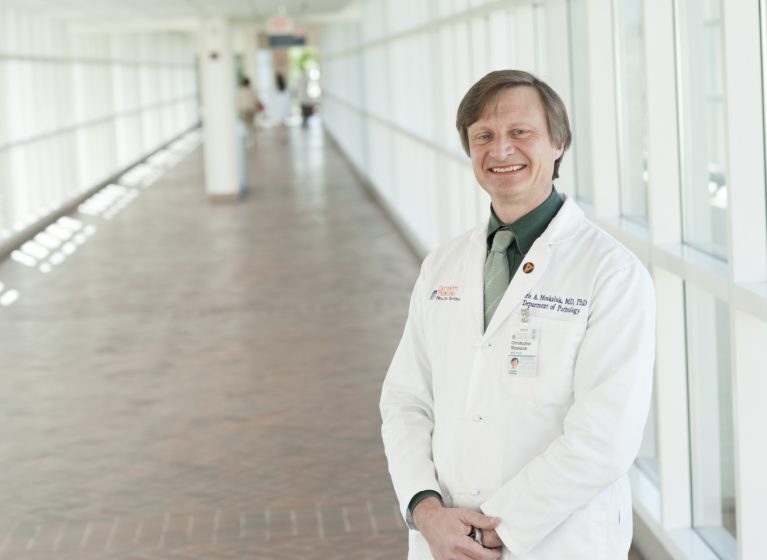 The University of Virginia Health System is playing a leading role in the Cancer Moonshot program, which is designed to make a decade's worth of advances in cancer prevention, diagnosis and treatment in only five years. To achieve such rapid progress, researchers are coordinating their efforts, sharing resources and breaking down barriers to collaboration.
One shared resource is the Lung Cancer Biospecimen Resource Program (LCBRN), a network of three academic medical centers (UVA, Medical University of South Carolina and Washington University in St. Louis) that is directed by Christopher Moskaluk, MD, PhD, chairman of the UVA Department of Pathology. Lung cancer patients donate samples of cancer tissue and various bodily fluids, which the LCBRN banks at UVA and then makes available to cancer researchers. These samples are particularly valuable because the LCBRN donors have agreed to make their medical records accessible so researchers can examine their response to therapy and other clinical outcomes. This allows the researchers to make associations between molecular signatures present in the samples and specific clinical or other biological parameters of the lung cancer cases.
APOLLO
A major component of the Cancer Moonshot is the Applied Proteogenomics Organizational Learning and Outcomes (APOLLO) Consortium, which will use state-of-the-art research methods in large-scale DNA, RNA and protein analysis to rapidly identify unique targets and pathways of cancer for detection and intervention.
Because the LCBRN has the necessary tissue samples banked and ready to go at UVA, it has been recruited to support the first project, called APOLLO 1. In this project, the LCBRN will supply cancer tissue samples from 50 patients whose cancer returned after treatment and from 50 patients with no evidence of recurrence after treatment. The study aims to identify if specific gene mutations or specific gene expression signatures are associated with disease recurrence, and then to test these molecular changes as predictive markers that can be used in clinical decision-making, such as whether to use more aggressive chemotherapy regimens following surgical removal of early stage lung cancer.
The long-term goals of the APOLLO program are to perform such analyses on 8,000 lung cancer patients by expanding patient recruitment to Department of Defense and Veterans Affairs hospitals. The LCBRN consortium is in discussion with APOLLO leadership to provide additional specimens beyond the initial 100 cases to contribute further to the goal of recruiting the 8,000 participants.
About the Moonshot
The Cancer Moonshot was initiated by the Obama administration and initially organized by the Office of Vice President Joe Biden. It has received strong bipartisan support from Congress, with 10 years of funding provided in the $6.3 billion 21st Century Cures Act, which passed the Senate in a 94 to 5 vote in December after passing the House 392 to 26.