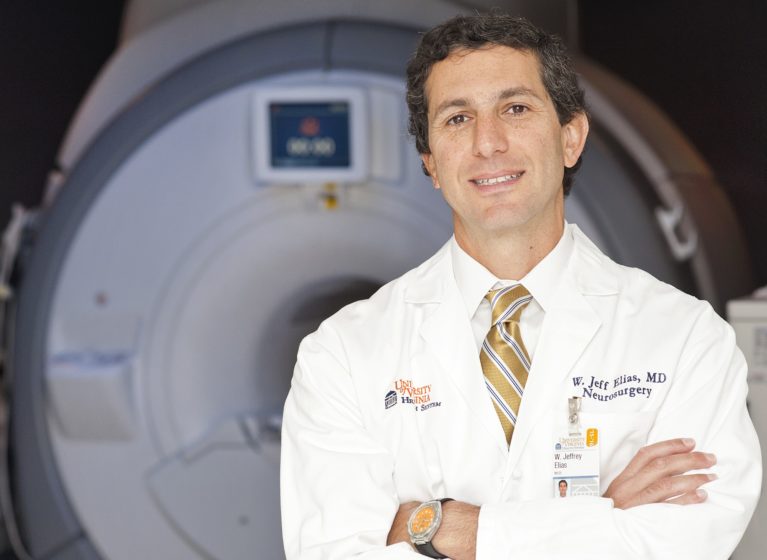 The University of Virginia Health System's pioneering use of focused ultrasound to treat essential tremor, the most common movement disorder, has been named one of the top 10 clinical research achievements of 2016.
The Clinical Research Forum presented the award to UVA neurosurgeon Jeff Elias, MD, and University of Maryland neurologist Paul Fishman, MD, PhD, last night at the National Press Club in Washington, D.C. Elias led the research into the use of focused ultrasound as a scalpel-free alternative to traditional brain surgery for essential tremor, a condition that often leaves patients unable to write legibly or eat without spilling. His years of work were rewarded last July when the federal Food and Drug Administration approved the approach to treat the condition.
"Our whole team is very excited to receive such a prestigious award. We believe that this relatively new technology will improve the lives of many patients with essential tremor and hopefully other central nervous system diseases in the future," Elias said. "Essential tremor beautifully demonstrates the potential of this technology, where such a dramatic improvement in the patient's condition occurs during the procedure."
Focused ultrasound
Essential tremor is estimated to affect 10 million Americans. The involuntary shaking can be a tremendous hindrance to everyday activities – anything that requires a steady hand can become impossible. As such, for patients who are appropriate candidates for the procedure, focused ultrasound is often immediate and life changing.
The ultrasound technology focuses sound waves inside the brain to create heat, much like a magnifying glass focuses light. That heat can then be used to carefully interrupt the circuits that are responsible for the tremor. Using magnetic resonance imaging, doctors can monitor the location and intensity of the procedure in real time – an important safety feature when making a precise lesion deep inside the brain.
Elias was the principal investigator of an international clinical trial of the device that enrolled 76 patients with severe tremor who had not responded to medication. The randomized clinical trial clearly demonstrated a significant benefit: Tremor was reduced by half after three months and by 40 percent after a year. The results were reported in the prestigious New England Journal of Medicine in August 2016.
For more information about the use of focused ultrasound for the treatment of essential tremor, visit uvatremor.com.
UVA is a world leader in focused-ultrasound research. Elias and other UVA scientists are testing the potential of focused ultrasound to treat conditions ranging from Parkinson's disease to epilepsy to benign breast tumors.
About the Clinical Research Forum
The Clinical Research Forum was created in 1996 to tackle the complex challenges facing clinical research at academic health centers. In the years since, it has brought together leaders in academia, government, the pharmaceutical industry and the information technology industry, drawing on their expertise to advance the group's goals of promoting the understanding of clinical research and increasing support for it.