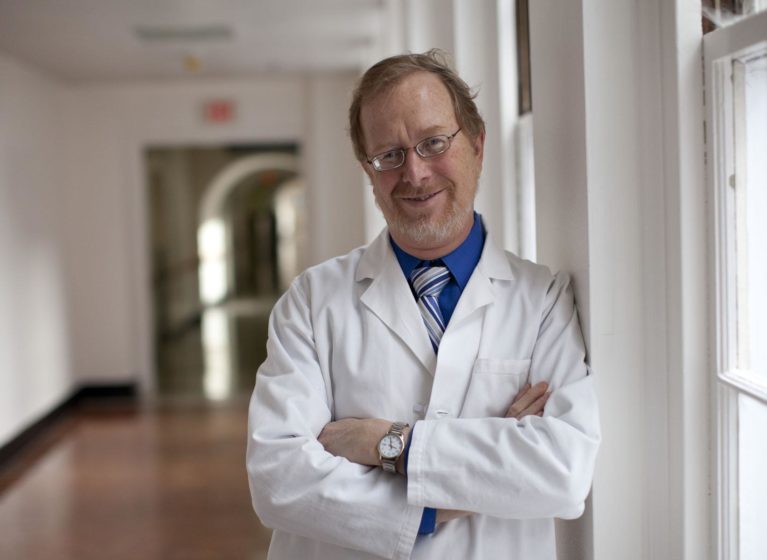 For people with type 2 diabetes, the prescription is typically "lose weight." But maybe not for much longer.
School of Medicine researcher Daniel Cox, PhD, has received $2.7 million from the National Institutes of Health to test an alternative strategy that could let people with diabetes eat as much as they want. Cox, of the Department of Psychiatry and Neurobehavioral Sciences, developed the approach after being diagnosed with type 2 diabetes, in which the body produces insulin but can't use it properly. "I knew myself," he said. "I'd been trying to lose weight forever, and that wasn't going to happen."
His new, tri-pronged approach aims to use blood glucose monitoring to "educate, activate and motivate." The underlying principle is that making people more aware of changes in their glucose levels may encourage them to avoid foods that spike their blood sugar and help them appreciate the benefits of physical activity. With that information, he hopes, they will be better equipped to manage their diabetes – possibly without the need to lose weight or even take medication. "We're not trying to change your behavior," he said. "We are trying to give you choices. It's up to you."
Type 2 Diabetes

Cox has tested his approach previously using finger-stick blood monitoring, but now he's adding a new, high-tech dimension: continuous glucose monitoring, performed by an electronic sensor that reports blood sugar levels to a smartphone app in real time. Participants equipped with the sensor will be able to see, right away, how a carbohydrate-rich meal spikes their blood sugar and how physical activity can bring it back down.
The goal, he said, is to help people with type 2 diabetes make healthy choices. By choosing foods that don't spike their blood sugar, they don't need to count calories, as they would on a diet. By getting more exercise – and by being less sedentary in general – they gain more control over their glucose levels. "The food selection prevents their blood glucose from going up, and the physical activity helps bring the blood glucose, whatever rise there is, back down," he said.
He recalled checking his blood sugar before and after going for a walk following lunch one day: "I saw my blood glucose had dropped 50 points, and that really encouraged me to repeat this," he said.
Clinical Trials
Cox and UVA's Anthony McCall, MD, are planning two clinical trials. The first includes 30 participants whose diabetes is not well-controlled by medication; 20 will receive Cox's intervention, and the remaining 10 will continue working with their doctor to find a medicine that works for them.
The researchers will follow that up with a much larger study in 200 people examining the effectiveness of three variations of his program. One uses no monitoring, one uses conventional blood testing and the third uses continuous glucose monitoring. "If it turns out to be better [than existing treatments], this new option, this paradigm shift, should be the first choice," Cox said. "And if it's only equal to the existing options, that would give patients a much-needed alternative."
All participants in the initial trial will need to make three visits to UVA over six months. There will also be three required educational programs at UVA, but those can be done by phone or Internet, he said. Participants will receive free testing supplies, free medical tests, a Fitbit and $100 upon completion of the study.
The smaller study (IRB #19313) is being funded through a $200,000 grant from DexCom, the glucose monitor manufacturer. The larger study (HSR No. 19370) has received $2.7 million in support from the National Institutes of Health, grant 1R01DK108957.
For more information, call 434.243.6520 or email [email protected]. Additional details are online.
RELATED: UVA, Virginia Tech seek ways to help drivers with autism