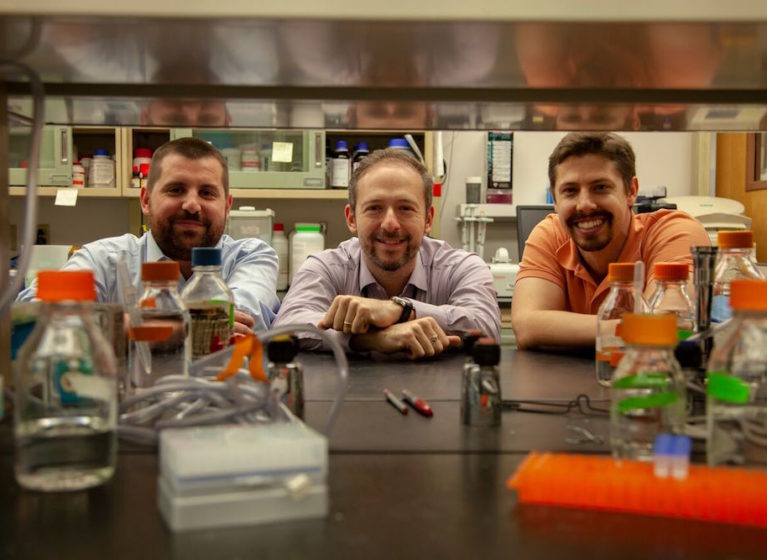 A School of Medicine brain discovery has been nominated as one of 2018's best ideas in biomedical science, and it is battling it out in a bracket-style competition – similar to the NCAA basketball tournament – that will be decided by a public vote.
The first round of STAT's STAT Madness runs through Thursday night, and the voting is taking place at the health news site: https://www.statnews.com/feature/stat-madness/bracket/
In this round, a discovery from the lab of UVA's Jonathan Kipnis, PhD, is facing a finding from Duke, a school known for the vigor of its fan base. That means it will be vital for Hoos and those who appreciate UVA's game-changing brain discovery to get their votes in and make their voices heard.
Kipnis, director of UVA's Center for Brain Immunology and Glia (BIG) and chairman of the Department of Neuroscience, made international headlines when his lab identified lymphatic vessels connecting the brain and the immune system – vessels textbooks long insisted did not exist. His STAT Madness entry builds on that work, linking poor function of the lymphatic vessels to Alzheimer's and the cognitive decline that comes with age. By improving the vessels' function, his team was able to improve the ability of mice to learn and enhanced their memories – suggesting an entirely new path to treat or prevent both Alzheimer's and cognitive decline in people.
The contest site describes Duke's finding: "Newly discovered neural circuit topples the notion that the gut uses only hormones to send sensory signals to the brain. Duke researchers found that in mice, gut sensory cells called enteroendocrine cells make electrical connections with the vagus nerve – a conduit to the brainstem. Information is relayed to the brain within milliseconds via this pathway, potentially enabling rapid detection of chemical, bacterial, and physical stimuli in the gastrointestinal tract."
This is the third year for STAT Madness. It aims to identify the "best innovations in science and medicine." As of 11 a.m. today, the first day of voting, there were already more than 11,000 votes cast, so the competition looks to be fierce. Any entry that hopes to win will need strong social media support, so get out there and vote and share! Here's that link again: https://www.statnews.com/feature/stat-madness/bracket/
Vote now, and don't forget to return for the subsequent rounds!
To keep up with the latest medical research news from UVA, visit the Making of Medicine blog.