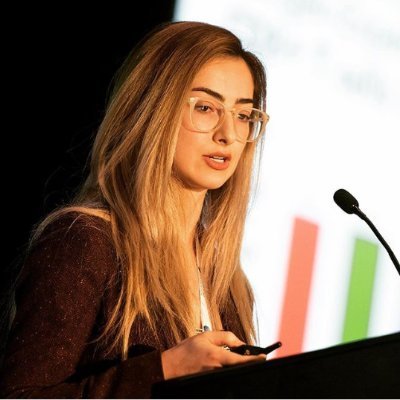 Health news site STAT has honored Natasha Sheybani, PhD, as one of the next generation of scientific superstars for her work in focused ultrasound, cancer immunology and nuclear medicine while a graduate student at the University of Virginia.
STAT has named Sheybani, now a postdoctoral fellow at Stanford, as one of its 2020 "Wunderkinds" as part of an annual competition celebrating tremendously promising young scientists. She is one of 26 award recipients this year.
"I consider it such an honor to have received this recognition. It is incredibly inspiring and motivating to be in the company of such remarkable early career scientists who share a desire to bear meaningful impact on patient lives through research," Sheybani said. "I owe a great deal to the many mentors – most notably my PhD advisor, Dr. Richard Price – who have championed my ambition to bring focused ultrasound and imaging to the forefront of immuno-oncology."
During her time at UVA, Sheybani played an instrumental role in pioneering research into the use of highly focused soundwaves as a potential treatment for breast cancer and brain tumors being conducted in the lab of biomedical engineer Richard J. Price, PhD. UVA is seeking approval to launch a clinical trial based on her breast cancer work.
"I am so thrilled that Natasha has received this prominent recognition," Price said. "Based on the highly impactful research she completed while in my lab, she is fully deserving of being named a STAT Wunderkind."
'A Transformative Presence'
In nominating his then-student for the award, Price called Sheybani "a transformative presence" in his lab.
"Through both coursework and collaborations with colleagues in the UVA Human Immunotherapy Center, Dr. Sheybani has become highly proficient in cancer immunology and has been my 'go to' source for immunology questions for the past two years," he said.
He noted that Sheybani pioneered the use of an imaging technology, immuno-positron emission tomography, to assess how focused ultrasound enhances drug delivery in brain tumors. Even after the pandemic struck, she worked tirelessly to maintain productivity in her research endeavors. "With regard to publications and productivity, Natasha is the most prolific student I have encountered in my 22 years on the faculty," Price said.
He also saluted Sheybani for her role mentoring undergraduate students, noting that she led multiple undergraduate teams completing intensive "capstone" projects. "Given her proclivity for mentorship," Price said, "as she advances into her independent career, she will embrace the opportunity to mentor women engineering and science students to become leaders in the field."
Originally from Richmond, Va., Sheybani received her PhD this summer from UVA's Department of Biomedical Engineering, a joint program of UVA's School of Medicine and School of Engineering. Her dissertation examined how focused ultrasound can benefit immunotherapy for solid cancers. She received her undergraduate degree from Virginia Commonwealth University.
About the STAT Wunderkinds
The STAT Wunderkind contest is open to postdoctoral students, medical residents, interns, medical fellows and industry scientists who have completed their degrees and are in their first job or training program. You can see all this year's winners on the STAT website.
Learn more about focused ultrasound at UVA.
To keep up with the latest medical research news from the School of Medicine, subscribe to the Making of Medicine blog.