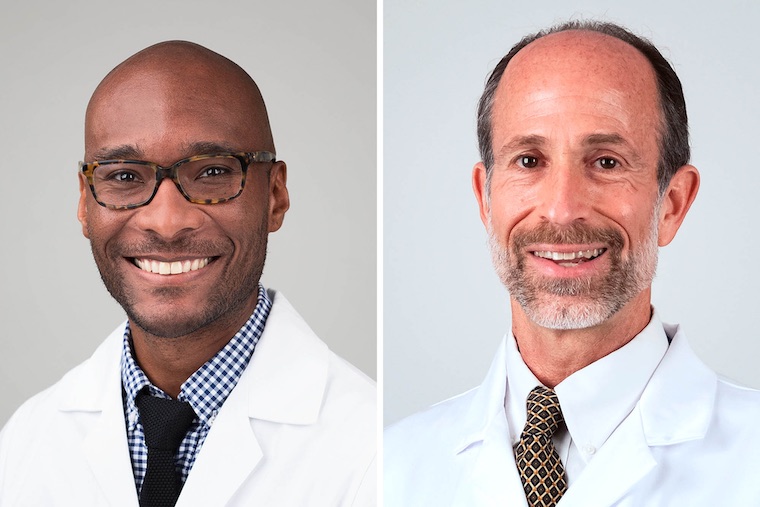 Two UVA Health physicians – Taison Bell, MD, and Andrew Wolf, MD – have been named Outstanding Faculty Award winners for 2021 by the State Council of Higher Education for Virginia.
"In their everyday work, Dr. Bell and Dr. Wolf exemplify the three-part mission of academic health systems – excellent patient care, biomedical research and education," said David S. Wilkes, MD, dean of the University of Virginia School of Medicine. "They are both truly deserving of this honor."
The SCHEV Outstanding Faculty Awards are the state's highest honor for faculty at Virginia's public and private colleges and universities, highlighting the recipients' achievements in teaching, research and public service.
"Dr. Wolf and Dr. Bell are incredible servants not only to their patients and students, but to the entire Commonwealth of Virginia," said K. Craig Kent, MD, UVA's executive vice president for health affairs. "They represent the incredible talent that is pervasive amongst our clinicians at UVA Health."
Nominees in fields ranging from English to medicine were selected by institutions, reviewed by a panel of peers and chosen by a committee of leaders from the public and private sectors. In total, 72 nominations were received this year. This group was narrowed to a field of 20 finalists and then to the 12 recipients.
"Both Dr. Wolf and Dr. Bell are outstanding faculty members that personify every aspect of faculty excellence," said Liz Magill, UVA's executive vice president and provost. "They deliver the meaningful student experience and world-class education that is synonymous with UVA and UVA Health."
Taison Bell, MD: On the Front Lines Fighting COVID-19
Bell has helped lead UVA's response to the COVID-19 pandemic on multiple fronts. As medical director of UVA's Medical Intensive Care Unit, Bell has cared for patients in UVA's COVID units and assisted long-term care facilities in Central Virginia as they battled outbreaks.
He also helped shepherd a university- and community-wide effort to create and distribute personal protective equipment to front-line care providers and was instrumental in bringing a clinical trial to UVA that examined the effectiveness of remdesivir as a COVID-19 treatment. Based on the results from UVA and other trial locations, the federal Food and Drug Administration authorized remdesivir as the first treatment for COVID-19.
Medical students, residents and staff all recognize Bell as one of the health system's top teachers and mentors. He has won multiple health system awards for his teaching, and earned the Virginia American College of Physicians Academic Teaching Award in 2019. Bell has also served since 2018 as director of the UVA School of Medicine's Summer Medical Leadership Program, a six-week enrichment program for 30 college undergraduates from underrepresented groups in medicine who are interested in pursuing medical careers.
"I benefited so much from great educators that have always felt the most powerful tool I have is an ability to impart lessons to my team," Bell said. "I'm humbled and honored to be recognized for something that is so important to me."
Andrew Wolf, MD: Saving Lives Through Better Cancer Screenings
Wolf has helped save lives and improve the quality of life for thousands of patients across the U.S. by developing new and better guidelines for cancer screenings. He led the development of prostate cancer and colorectal cancer screening guidelines by the American Cancer Society, and also played a key role in developing national screening guidelines for lung cancer, breast cancer and cervical cancer.
He has also led efforts to give patients more of a shared voice with their doctors in making decisions about cancer screenings. Based in part on research conducted by Wolf, all cancer-screening guidelines now include guidance on when to stop screenings.
Wolf is recognized both inside and outside the health system as an excellent teacher; for example, he has won the UVA Outpatient Attending Physician of the Year Award so many times that he is now prohibited from winning it in consecutive years. As a primary care physician, he also cares for hundreds of patients from across Virginia. Wolf has regularly earned national honors for his high-quality care, routinely earning a spot on the Best Doctors in America® List by Best Doctors Inc. In 2019, he was awarded Mastership by the American College of Physicians, the College's highest honor.
"It is a tremendous honor and privilege to be recognized for what brings me such great joy every day," Wolf said. "I am also particularly grateful to the State Council of Higher Education for honoring a primary care physician-educator – there are many like me on the front lines of both healthcare and medical education who are equally deserving of this award. I would like to take my moment in the limelight to highlight the vital role we all play in training the next generation of physicians while providing comprehensive primary care."
Winners each receive a $7,500 cash award underwritten by the Dominion Foundation and a commemorative engraved award. More information about this year's winners is available on the SCHEV website.