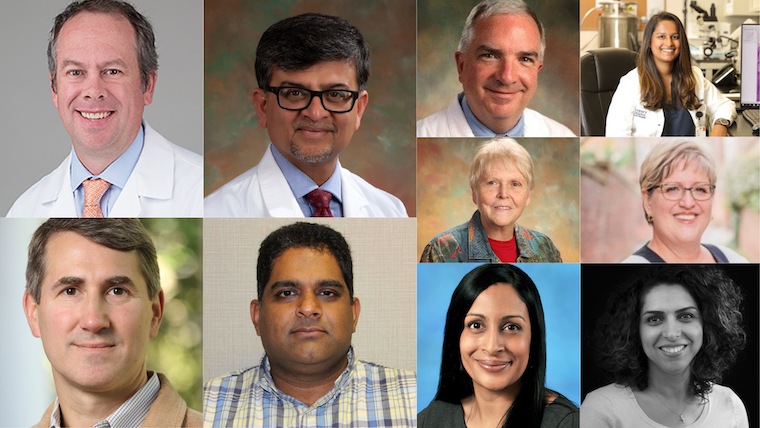 The integrated Translational Health Research Institute of Virginia (iTHRIV), a National Institutes of Health (NIH)-funded Clinical and Translational Research Award hub, has awarded $200,000 in pilot funding to five multi-institutional research projects. Teams of physicians, researchers and engineers at the University of Virginia, Virginia Tech, Inova Health System and Carilion Clinic were awarded the funds as part of the iTHRIV NIH-NCATS award UL1TR003015. Support of these early phase research projects will help accelerate the discovery of potential treatment options for Parkinson's disease, celiac disease and epilepsy, as well innovation in the fields of telemedicine and pediatric heart transplant. The awarded pilot projects include:
Searching for genetic markers for celiac disease with machine learning
Sana Syed, an assistant professor in the UVA School of Medicine's Department of Pediatrics, and Suchitra Hourigan, Inova Children's Hospital's vice chair of research and innovation, seek to determine if machine learning is useful in diagnosing celiac disease sub-types. Currently, treatment and management of celiac disease involves gluten-free diet and is not intended to help assess the specific risk of patients developing other diseases. Syed and Hourigan will investigate gut tissue biopsies as well as genetic markers of patients with celiac disease and type 1 diabetes and/or hypothyroidism. They aim to determine whether biopsy or gene markers at the time of disease diagnosis can predict the risk of developing these diseases in the future. The team will use machine learning algorithms to analyze multiple datasets. If successful, the team members hope that any patterns found will enable them to link biopsies and unique genes, paving the way for improved care for patients with celiac disease.
Measuring medication in patients with epilepsy
In most instances, how medications act on the brain to produce their therapeutic effect (e.g., pain relief) are not well understood. Aashit Shah, a professor of internal medicine at the Virginia Tech Carilion School of Medicine, and Virginia Tech's Sujith Vijayan, an assistant professor in the Virginia Tech College of Science's School of Neuroscience, will study patients with intractable epilepsy who have been implanted with electrodes to determine the region responsible for their seizures. The team will study signals measured in epileptic patients undergoing intracranial electroencephalography. They will review intracranial electrical signals from various brain regions following administration of medications that work on the brain. Shah and Vijayan hope to improve the understanding of how and where these medications work. They anticipate this can help in the development of new biomarkers for neuroactive drugs, which may improve development of medications in the future.
Studying auditory therapy for Parkinson's disease
Della Williams, a neurologist at Carilion Clinic and an assistant professor of internal medicine at the Virginia Tech Carilion School of Medicine, has also partnered with Vijayan to study auditory therapy for patients living with Parkinson's disease. Their project seeks to better understand the disease progression and if it can be slowed by providing background noise to patients as they sleep. Additionally, simple auditory stimulation during sleep may help to improve learning and memory processes.
Integrating augmented reality to improve pediatric telemedicine
Elham Morshedzadeh, an assistant professor of industrial design in Virginia Tech's College of Architecture and Urban Studies; Andre Muelenaer, a professor of biomedical engineering and mechanics in Virginia Tech's College of Engineering and a professor of pediatrics for the Virginia Tech Carilion School of Medicine; and Melinda Schriver, Carilion's director of digital health, have proposed a study to design a successful and comprehensive telemedical encounter for infants and preschool children. They'll seek to provide a robust, feasible and affordable training program integrating augmented reality, online and hands-on learning experiences. The study aims to make telemedical encounters vastly more inclusive and efficient.
Defining donor characteristics for pediatric heart transplants
Heart transplantation is the standard of care for pediatric patients with end-stage heart failure or inoperable congenital defects, yet nearly 20% of patients die while on the waitlist. To help increase the odds of successful pediatric heart transplants, Michael McCulloch, an associate professor and a pediatric cardiologist at UVA Children's Hospital Heart Center, and Michael Porter, an associate professor of systems engineering in UVA's School of Engineering and Applied Science, will analyze donor echocardiographic data to identify which donor characteristics contribute to positive heart transplant recipient outcomes.
About iTHRIV
iTHRIV is a cross-state translational research institute which combines the expertise of clinical translational biomedical researchers and data scientists to create infrastructure and investigator resources for using data to improve health across the Commonwealth of Virginia. Partner sites include University of Virginia, Virginia Tech, Carilion Clinic and Inova Health System. iTHRIV is funded by the National Center for Advancing Translational Sciences, part of the National Institutes of Health, through award number UL1TR003015.
Learn more about the NIH CTSA program.