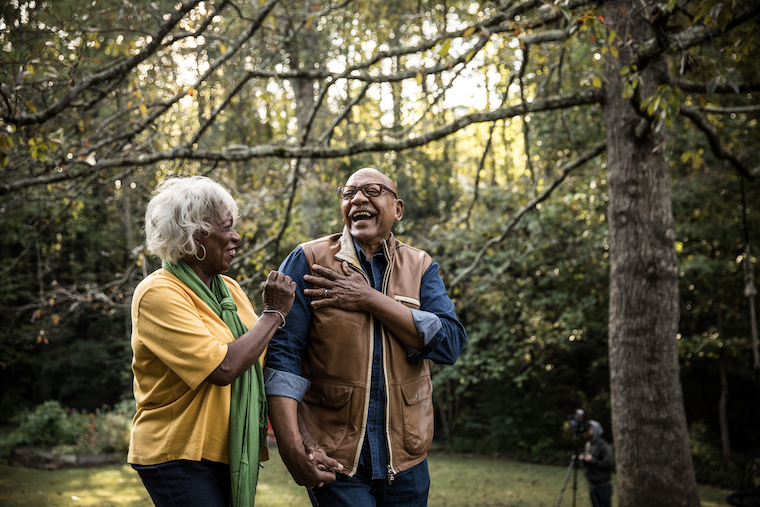 The integrated Translational Health Research Institute of Virginia (iTHRIV), a National Institutes of Health (NIH)-funded Clinical and Translational Science Award hub, has awarded almost $80,000 in seed funding across two community-focused projects.
The seed grant program is part of iTHRIV's goal to promote translational science that bridges the gap between community and health researchers. The projects also reflect iTHRIV's commitment to advancing social equity by funding research that will benefit underserved groups across Virginia. "iTHRIV seeks opportunities to partner with the community to address health problems which are important to the people who live in Virginia," said Kristin Miller, iTHRIV partnership manager. The 2021 projects will study:
The Benefits of Greenspace Activities for Seniors
Noting that the pandemic has had a uniquely detrimental impact on seniors, Marta Keane MEd, CCC-SLP/Aud, chief executive officer of the Jefferson Area Board of Aging (JABA) has partnered with Jenny Roe, PhD, director of the UVA School of Architecture's Center of Design and Health, and Christopher Neale, PhD, to study whether various nature-based activities can lead to improvements in emotional, physical and cognitive health in seniors.
According to Keane, "Isolation, any amount of time, can negatively impact emotional, physical and cognitive health. The extreme social isolation created by COVID could exacerbate these risks." She continues: "Due to the heightened isolation from the pandemic, it is more important than ever to investigate the impact that purposeful nature experiences could have on seniors' well-being."
Preliminary research indicates that there are many benefits of green space activities in older adults; use of outdoor space is a way to increase social interactions in a COVID-safe manner.
Roe agrees: "We know that interacting with nature – in gardens, in parks, in wilder settings – builds emotional, cognitive, physical and social well-being. At a time when so many older people are suffering from lack of mobility and social isolation, our research will help identify what type of nature intervention works best for health and for whom. Tthat is, comparing a physical approach – walking in nature – versus a cerebral approach – engaging in environmental citizen science –versus a nurturing approach – gardening and growing plants."
Study participants will engage in activities including walking, planting and various "citizen science" projects. The researchers will then evaluate metrics related to contemplative, physical and cognitive health. Keane hopes that the team's work will have positive effects not only for JABA-service users but also for seniors nationwide.
Improving Access to Medicaid for Noncitizen Children
Michaela Lieberman, a staff attorney and the Health Justice Legal Fellow at the Legal Aid Justice Center in Charlottesville, noticed that while many noncitizen children are legally eligible for Medicaid, they remain uninsured. Lieberman has partnered with Dianne Pappas, MD, a pediatrician at UVA Health, to study this issue.
Their community-based team aims to identify and reduce common barriers to Medicaid enrollment for noncitizen children, as well as collect information on primary-care and emergency-room use.
"Honestly, we don't really know how many of these children and families there are in our community or what the challenges and barriers are that keep them from accessing health care," Pappas said. "The first step to improving access and health is to understand the community and the barriers that prevent them from successfully accessing the health care system."
Lieberman is delighted their proposal was funded: "It was designed and implemented in partnership with directly affected community members. This grant will ultimately ensure more Medicaid-eligible kids in Virginia get access to the critical healthcare services they may otherwise not be able to afford. We see this funding opportunity as an important tool in capturing and reducing a source of health inequity in the commonwealth."
The researchers will also measure if participants report an increase in self-perceived overall well-being. The team plans to develop a set of best practices to reach and enroll this historically underserved and overlooked population.
iTHRIV is supported by the NIH through National Center for Advancing Translational Sciences (NCATS) award number UL1TR003015. A cross-commonwealth collaboration of the University of Virginia, Virginia Tech, Carilion Clinic, and the Inova Health System, iTHRIV unites the research infrastructure of these flagship institutions to accelerate innovation in health-related research with the latest advances in data science. iTHRIV is committed to engaging with community voices to understand what is important to them regarding their health and their needs.
To learn more, please visit www.iTHRIV.org.