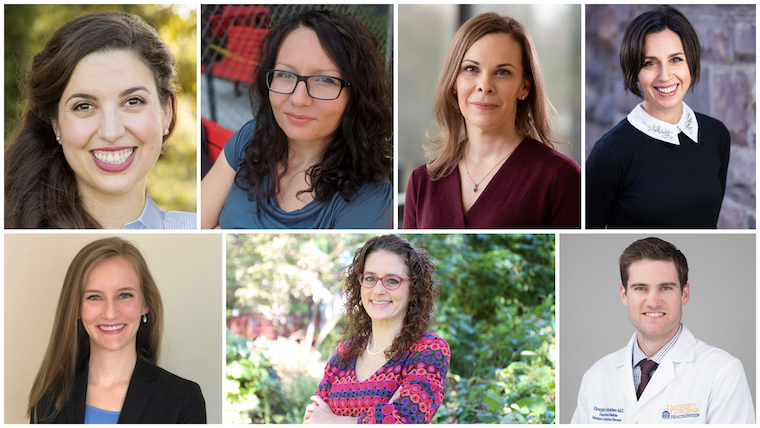 The integrated Translational Research Institute of Virginia (iTHRIV) has announced its fifth class of iTHRIV Scholars. The seven selected researchers from the University of Virginia and Virginia Tech will participate in a structured research training and mentorship program.
The iTHRIV Scholars program, launched in 2017, is a cohort-based, mentored career development award for dedicated early career clinical and translational researchers. The intensive two-year program emphasizes data science training and interdisciplinary research collaboration.
iTHRIV Scholars dedicate roughly 75% of their time to their research project and the training program. The Scholars Program brings together innovative training in clinical translational research, data science, "grant brewing" and research project development and management, all in a strong mentoring environment with support from peers and seasoned scientists and clinicians.
"The program incorporates various elements of scientific leadership into a focused and rigorous curriculum that enables individual researchers to improve their work with constant feedback from mentors and their cohort," said Jason Papin, a professor of biomedical engineering in UVA's School of Engineering and Applied Science and School of Medicine and one of the iTHRIV Scholars Program's principal investigators. "It really helps them develop a network that advances not only the Scholar as a researcher but fast-tracks the translation of their science."
The Scholars also participate in an annual public symposium where they present their findings and learn more about the work of their peers.
The 2021-23 cohort:
The 2021 iTHRIV Scholars Program cohort will begin in July. Following the successful model of last year's virtual cohort, this year will incorporate elements of distance learning, but will seek to phase in in-person collaboration.
Leanna Blevins, PhD, Assistant Vice President for Virginia Tech Health Sciences Education and Student Affairs and the Site Director for the iTHRIV Scholars Program at Virginia Tech and Carilion Clinic, explained, "iTHRIV has scholars and mentors from multiple campuses and locations, so building on a virtual program model allows us to bring everyone together regularly in an equitable way. This year we look forward to finding ways to occasionally gather so that we can extend our collegiality off the computer screen."
Funded in part by a Clinical and Translational Science Award (CTSA), iTHRIV combines the expertise of biomedical researchers and data scientists to facilitate team science and accelerate innovation to improve health across the Commonwealth of Virginia. Partner sites include Virginia Tech, the University of Virginia, Carilion Clinic, and Inova Health System. iTHRIV is partially supported by the National Center for Advancing Translational Sciences, part of the National Institutes of Health, through award number UL1TR003015/KL2TR003016.
For more information, please visit iTHRIV.org.
To keep up with the latest medical research news from UVA, subscribe to the Making of Medicine blog.