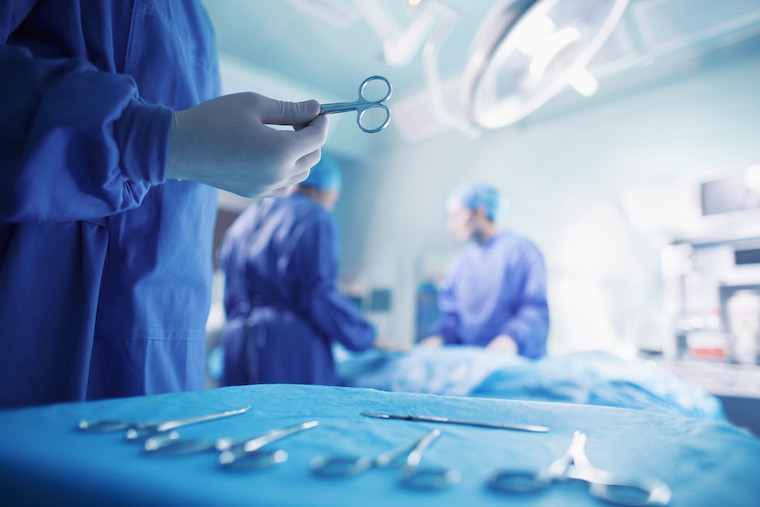 The integrated Translational Health Research Institute of Virginia (iTHRIV), a National Institutes of Health (NIH)-funded Clinical and Translational Research Award hub, has awarded $200,000 in pilot funding across five multi-institutional research projects. Teams of physicians, researchers, sustainability experts and software engineers at the University of Virginia School of Medicine, Virginia Tech, Inova Health System and Carilion Clinic were awarded the funds as part of the iTHRIV NIH-NCATS award UL1TR003015.
Support of these early phase research projects will help accelerate the discovery of potential treatment options for obesity, lung transplantation and mental health, as well as an innovative approach to reducing surgical waste. The awarded pilot projects include:
Combating Chronic Obesity
Obesity treatments have advanced in recent decades, yet obesity remains a major public health concern. The signaling pathways between the gut and the brain present a novel and potentially powerful therapeutic target for obesity and metabolic diseases.
Virginia Tech's Alexandra DiFeliceantonio proposes to test the fidelity of gut-brain signaling to see where signal deterioration occurs across a range of body mass indexes and in states of altered metabolic heath. Her team will collect behavioral and functional MRI data from all participants, and a subset of research subjects will be evaluated in the Fralin Biomedical Research Institute's new whole room calorimeters and human metabolism research facilities – one of only four of its kind nationally.
The data will provide evidence for gut-brain signaling as a therapeutic target in obesity treatments, allowing the development of state-of-the-art tools to measure metabolic health.
Reducing Operating Room Waste
In the operating room, single-use, sterile surgical supplies are opened onto the scrub table but only a fraction are used during surgery. The unused supplies are disposed of as biohazard waste, requiring sterilization or incineration prior to being sent to the landfill. Systematically identifying any unused single-use, sterile surgical supplies at the end of surgery is time intensive and involves handling potentially contaminated objects, so it is rarely done.
In this project, UVA Health anesthesiologist Matthew Meyer is partnering with Virginia Tech Engineering and Computer Science professor Hoda Eldardiry, sustainability expert Samuel Raasch from Inova, and UVA School of Engineering computer science and engineering systems professor Madhur Behl to develop computer-vision software capable of distinguishing between supplies that were used and those that remain untouched.
By enabling consistent data collection about wasted single-use sterile supplies, the team will be able to quantify the waste and then develop solutions that improve the behaviors that cause the waste, saving resources and money, while diverting waste from the incinerator and landfill.
Identifying Lung Transplant Rejection Early
Lung transplantation is a critical therapy for many patients with end-stage lung diseases. Unfortunately, it is far from perfect, and many transplant recipients die from rejection of the organ meant to save them. Rejection occurs because the recipient's body perceives the donor's lungs as foreign and mounts an attack against them.
If physicians were able to detect the early phases of rejection and aggressively treat it, they would be able to provide the longest survival benefit to the recipients. To diagnose rejection, the standard procedure is to perform a bronchoscopy that samples two easy-to-reach locations.
Unfortunately, even after normal bronchoscopy results, many patients develop rejection unpredictably. A research team led by UVA Health pulmonologist Yun Shim and radiologist Jaime Mata at UVA's Lung Transplant Center will use a specialized MRI technique they developed called hyperpolarized gas MRI (HGMRI) to visualize and detect lung abnormalities.
The team has already seen that rejection happens in "moth-eaten" random patterns, with normal and abnormal lung tissues alternating. Now the team proposes to use HGMRI during bronchoscopy in lung transplant patients to target areas of the lung for sampling.
With more effective lung sampling, guided by HGMRI, the team hopes to enable an early, accurate diagnosis of rejection. If rejection can be detected proactively, therapies can be implemented earlier to improve survival.
The Brain Pathways of Self-Harm
Self-harm behaviors are particularly prevalent among young adults and are often accompanied by an elevated risk of suicide. The roots of self-harm are primarily found in early life trauma.
Virginia Tech Fralin Biomedical Research Institute researcher Sora Shin is partnering with UVA pharmacology professor Michael Scott to determine the neural circuitry involved in self-harm behaviors that are modified by early life trauma in mice. L-type calcium channels are implicated in mental illnesses with a self-harm component, such as schizophrenia and depression.
Calcium channel blockers reduce self-harm behaviors, and administration of calcium channel agonists induce self-harm. By using genetic manipulation to turn on and off certain calcium channels, the team will be able to study the specific neuronal cell types and pathways that cause self-harm behaviors and how those pathways change when exposed to early life trauma.
These studies will guide translational work to create new neural therapeutics for some of the most challenging problems in psychiatry.
Assessing Telepsychiatry
Carilion Clinic Psychiatry and Virginia Tech Psychology departments have been successfully using Patient Reported Outcome Measures (PROMs) to assess the severity of mental illness and health outcomes after in-person psychiatric treatments. The COVID-19 pandemic, however, necessitated a rapid transition nationally from in-person to virtual services.
Initial results indicate that patients who received care via telepsychiatry showed improvements in depression, anxiety and psychological functioning. However, without a control group of untreated patients, the impact of telepsychiatry and PROMs remains unclear.
A research team from Carilion and Virginia Tech, led by Anita Kablinger and Lee Cooper, proposes creating a control group in which patients awaiting treatment will be randomly assigned to one of two control groups: One group will complete PROMs monthly and have access to microlearning patient education videos, and a second group will not receive intervention but will complete the PROMs upon admission to the waitlist and right before being seen by a provider.
This will allow the team to assess the influence of telepsychiatry treatment and the effect of repeated PROMs, offering indications for continued availability of PROMs in conjunction with telepsychiatry services post-pandemic.
About iTHRIV
iTHRIV is a cross-state translational research institute which combines the expertise of clinical translational biomedical researchers and data scientists to create infrastructure and investigator resources for using data to improve health across the Commonwealth of Virginia. Partner sites include UVA, Virginia Tech, Carilion Clinic and Inova Health System. iTHRIV is funded by the National Center for Advancing Translational Sciences, part of the National Institutes of Health, through award number UL1TR003015.
Learn more about the NIH CTSA program.
To keep up with the latest medical research news from UVA, subscribe to the Making of Medicine blog.