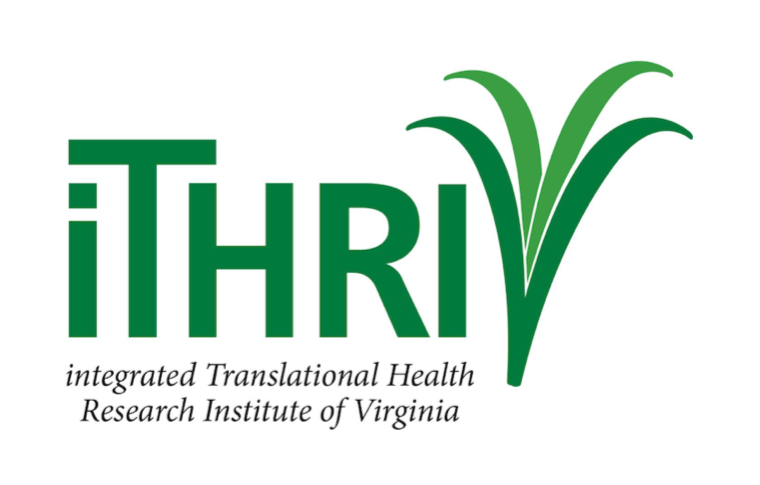 The integrated Translational Health Research Institute of Virginia (iTHRIV), a National Institutes of Health (NIH)-funded Clinical and Translational Science Award hub, has awarded $200,000 in pilot funding across four multi-institutional research projects to accelerate health breakthroughs in the fields of pediatrics, prenatal care and cancer treatment.
Teams of physicians, researchers, veterinarians and data scientists at Carilion Clinic, the University of Virginia and Virginia Tech were awarded the funds as part of iTHRIV NIH-NCATS award UL1TR003015. 
"Our vision for these exciting seed projects is to support the ideas and cross-institutional collaborations that will lead to knowledge that improves health in Virginia and beyond," said UVA Health's Sean Moore, MD, director of the iTHRIV Pilot Studies Program. "Our past four years of pilot and feasibility awards have already led to numerous publications, patent applications and $9 million in federal follow-on funding – all directed at using data to change outcomes. We are excited to see what our new awardees will accomplish."
The funded projects:
Identifying Institutional Factors Impacting Patient Care in Colorectal Screening
Colorectal cancer screening rates remain well below the national goals and are substantially worse among some demographic groups – for example, one in two rural Virginians remains unscreened. Principal Investigator John Epling, MD, MSEd, (Vice Chair for Research and Population Health with the Department of Family & Community Medicine at Carilion Clinic) will lead an interdisciplinary team to examine factors which may delay colorectal cancer screening and the consequences of these delays. Members of the research team include Michelle Rockwell, PhD, RD (Senior Research Associate at Carilion); Paul Yeaton, MD (Division Chief of Gastroenterology at Carilion); Sarah Parker, PhD (Chair of the Department of Health Systems and Implementation Science at Virginia Tech Carilion School of Medicine and research associate professor at Fralin Biomedical Research Institute at Virginia Tech Carilion); Jeff Stein, PhD (Associate Director of the Center for Health Behaviors Research at Fralin Biomedical Research Institute at Virginia Tech Carilion); and Li Li, MD, PhD (Chair of the Department of Family Medicine at UVA Health). Together, they will work to understand and quantify factors in health care processes, known as "sludge" (unnecessary paperwork, long wait times, etc.), and how these factors may affect vulnerable individuals.
Researchers will conduct facilitated discussions with patients who have recently experienced or are experiencing some aspect of the colorectal cancer screening process within the Carilion system. Using themes identified by affected communities, the team will create a patient-experience survey designed to quantify sludge as well as the consequences (such as delayed or foregone screenings, distrust and other factors identified by community members). With 20 million Americans eligible for colorectal screening every year, this work stands to change the way our broad population experiences screening. This work will be especially valuable to inform process improvement for the most vulnerable.
The Obesity EMBRACE Pilot: Empowering Moms and Basic Research Via Active Community Engagement
Pregnancy is a time of excitement and worry for mothers-to-be, particularly for obese women. This is primarily because of increased risk of gestational diabetes, preeclampsia and early delivery, among other poor maternal and infant health outcomes. Knowing this, a team composed of Brittany Howell, PhD (Assistant Professor of human development and family science at Fralin Biomedical Research Institute at Virginia Tech Carilion), and Jaclyn Nunziato, MD (Assistant Professor in Obstetrics and Gynecology at the Virginia Tech Carilion School of Medicine, and OBGYN physician at Carilion), will examine a potential contributing factor to poor pregnancy outcomes: imbalance in the vaginal microbiome. The vaginal microbiome refers to all of the microorganisms found in the vagina. Most studies about the vaginal microbiome in pregnancy are focused on healthy weight populations, despite known differences in the vaginal microbiome associated with weight. The vaginal changes during pregnancy in overweight women have not been thoroughly studied, and it is not known how these differences may predict health outcomes.
The overarching goal of the research is to determine the effects of maternal pre-pregnancy weight on the vaginal environment and microbiome, and their relationship with pregnancy, birth and infant outcomes. Researchers believe a screening tool to assess the risk of pregnancy complications would provide an opportunity to identify women at high risk while prompting further research into treatment options that alter the vaginal environment. The team also hopes to engage with a representative group of women, obstetrician-gynecologists and other stakeholders to begin exploring the feasibility of implementing such tools into the clinic.
Characterization of Extracellular Vesicles (EVs) after High-Intensity Focused Ultrasound for the Treatment of Sarcoma
Extracellular vesicles (EVs) are particles naturally released from cells that enable communication between cells locally and distantly. In some cancers, EVs are implicated in cancer progression and metastasis. A cross-institutional team of Shawna Klahn, DVM (Associate Professor of Oncology in the College of Veterinary Medicine at Virginia Tech), and Natasha Sheybani, PhD (Research Director of UVA Health's Focused Ultrasound Cancer Immunotherapy Center), plans to characterize the EVs released from soft-tissue sarcomas before and after treatment of the tumor with high-intensity focused ultrasound, a technique that uses sound waves to destroy cancer tumor cells. Researchers are seeking to understand the biological consequences of high-intensity focused ultrasound treatment on EVs. EVs represent a potential new drug delivery tool, and high-intensity focused ultrasound can alter the release and/or contents of the EVs. In addition, this work will offer important information about the use of focused ultrasound as a treatment option for some types of cancer.
Discovery of Probiotics to Improve Infant Health
Research has shown that a healthy gut is important for not only food digestion and nutrient absorption but also for helping to protect our bodies against disease and illness. Breastfeeding infants has many advantages, including better protection from infections. However, for infants having to exclusively receive formula due to a variety of reasons, formula selection can be challenging and overwhelming for parents and result in undereducated decision-making or constant formula changes for the infant. Establishing formula content that is most effective for promoting infant health would make decision-making easier for parents as well as provide consistent nutrition for the infant.
In this proposed project, an interdisciplinary team of Xin Luo, PhD (Associate Professor of Immunology in the Department of Biomedical Sciences and Pathobiology at Virginia Tech), and Monica Garin-Laflam, MD (Associate Professor of Pediatrics and the Director of the Pediatric Inflammatory Bowel Disease at Carilion Clinic), will test the hypothesis that infants with higher abundance of specific strains of Lactobacillus reuteri in the gut microbiome have more protective antibodies (known as IgA) for fighting infections. Researchers plan to examine the fecal microbiome of breastfed infants to determine whether infants with more strains of Lactobaccillus reuteri also have more IgA capable of recognizing gut pathogens such as Salmonella, enterohemorrhagic Escherichia coli and Shigella. The team hopes that understanding which Lactobaccillus reuteri strains promote IgA production will inform the design of baby formula to promote better infant gut health and will guide parents in the selection of the best baby formula.
About iTHRIV
iTHRIV is supported by the NIH through the National Center for Advancing Translational Sciences (award number UL1TR003015). A Commonwealth collaboration of the University of Virginia, Virginia Tech, Carilion Clinic and the Inova Health System, iTHRIV unites the research infrastructure of these flagship institutions to accelerate innovation in health-related research with the latest advances in clinical and translational science. iTHRIV is committed to engaging with community voices to understand the health-related priorities of our affected communities.
Learn more about the NIH CTSA program.
To keep up with the latest medical research news from the UVA School of Medicine, subscribe to the Making of Medicine blog.