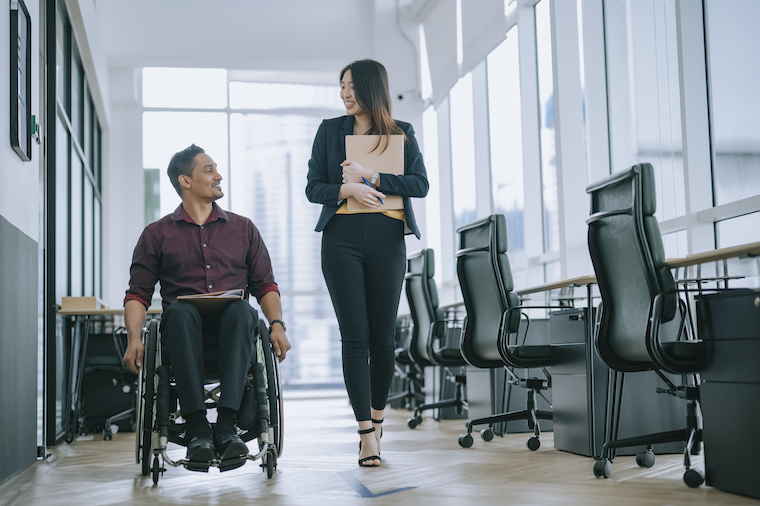 Researchers at the University of Virginia and Johns Hopkins University are calling on the National Institutes of Health – and America as a whole – to take bold steps to overcome the grave health disparities faced by people with disabilities.
The UVA School of Medicine's Rupa S. Valdez, PhD, and her colleague Bonnielin K. Swenor, PhD, MPH, at Johns Hopkins have authored a "Viewpoint" editorial in the prestigious New England Journal of Medicine outlining a plan to improve the health and lives of the more than 27% of Americans who have some form of disability.
"People with disabilities often don't get the same access to healthcare or have as good health outcomes as people without disabilities. This is because of unfair ways that things are set up in our society that make it harder for them to get the care they need," said Valdez, of the Department of Public Health Sciences at the UVA School of Medicine and the Department of Systems and Information Engineering at the UVA School of Engineering and Applied Science. "Our hope is that people who read this will feel called to make things fair and equal for disabled people. This call to action isn't only for policymakers, federal agencies, healthcare administrators or individual clinicians but for every person."
Disparities for People With Disabilities
The researchers are asking the NIH, and agencies such as the Centers for Disease Control and Prevention, to formally categorize people with disabilities as a health disparity population. This designation will prompt important research to quantify and mitigate the complex factors that contribute to poor health outcomes, they say.
"People with disabilities face substantial inequities in numerous social determinants of health, ranging from education and employment, to housing and transportation, to access to broadband and other technologies," Valdez and Swenor write. "They also experience inequities in health care quality and access stemming from physical, attitudinal and communication barriers; inadequate professional training in legal obligations and the needs of people with disabilities; and inadequate knowledge regarding, and reimbursement for, accommodations."
These challenges are often compounded by other disparities that result from race, class, gender identity, even geographic location, the researchers note. For example, residents of rural areas are more likely to have disabilities, and because rural residents and disabled people are both less likely to have broadband access and more likely to have transportation difficulties, such challenges are even greater for people with disabilities living in rural communities.
Overcoming Obstacles
An important first step toward dismantling "structural ableism," the researchers suggest, is to better understand the scope and nature of the challenges faced by people with disabilities. These measures can mirror existing metrics used to assess and address racial disparities in areas such housing, education and criminal justice, they say. But the researchers note that other criteria will need to be scrutinized as well, such as accessibility of the physical environment, technology and communication. Measures of access in the "built environment" might look at things such as the number of curb cuts, which allow wheelchair access, and intersections with audible crosswalk signals in a particular geographic area.
While the researchers are calling on the NIH to catalyze research, they note that action to collect essential data can be taken now by local and state agencies.
"Most importantly, researchers, advocates and policymakers will have to partner with the wide range of people in the disability community to ensure that efforts are inclusive of the diversity of disability experiences," the researchers write. "True partnership requires eliminating barriers to participation by people with disabilities in efforts related to science, technology, engineering and math; it also means promoting the inclusion of researchers and clinicians with disabilities. This approach honors a long-time motto of the disability community: 'Nothing about us without us.'"
By closely examining existing disparities and their causes, the researchers say, we can ignite important conversations, mobilize resources, and foster a strong desire for change. This understanding of the problems at hand is crucial in driving meaningful progress towards a more equitable future, they argue. And they hope that the future will offer a healthier, more inclusive society for people with disabilities.
"Despite the Americans with Disabilities Act being passed over 30 years ago, much work remains to be done to ensure that people with disabilities have equal access, opportunities and rights," Valdez said.
To keep up with the latest medical research news from UVA, subscribe to the Making of Medicine blog.