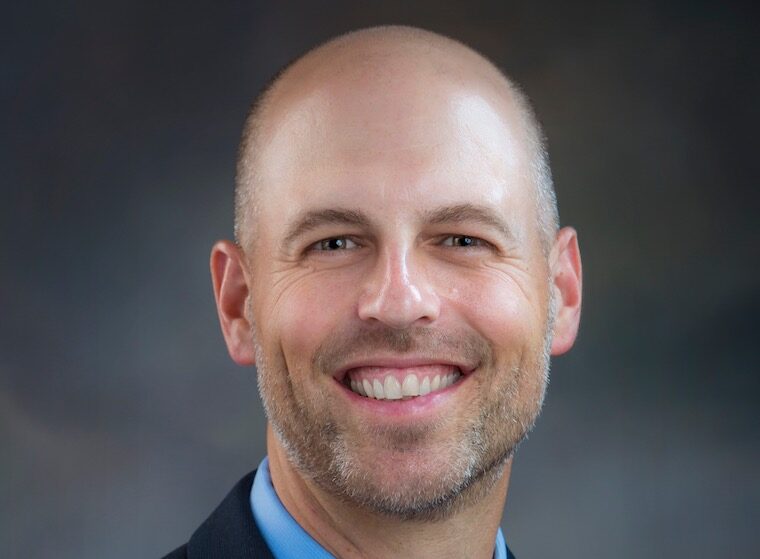 The School of Medicine has named Andrew E. Muck, MD, MBA, an experienced leader in emergency medicine with a track record of fostering exceptional patient care, educating the next generation and contributing to the advancement of his specialty, to chair its Department of Emergency Medicine.
Muck comes to UVA from the University of Texas Health Science Center at San Antonio, where he serves as a Professor in the Department of Emergency Medicine and faculty in the Center for Medical Humanities and Ethics. Prior to this role, he served as regional medical director at Victoria Emergency Associates, where he was responsible for provider management of eight emergency departments for Christus Health's Santa Rosa Hospital System and led dramatic improvements in patient satisfaction and safety.
"Dr. Muck is an outstanding physician, an incredible educator, a compassionate caregiver and an exceptional leader. He knows how to solve problems, manage complex organizations and improve patient care," said Melina R. Kibbe, MD, dean of the UVA School of Medicine and chief health affairs officer for UVA Health. "He brings precisely the skills needed to continue and enhance the exceptional work under way in the Department of Emergency Medicine."
Muck has tremendous leadership experience, having served as interim chair of UT Health San Antonio's Department of Emergency Medicine from July 2018 to October 2019, program director from July 2016 to July 2020 and vice chair of education from October 2017 to July 2020. In his later two roles, he oversaw a residency program of 34 residents, a third-year medical student clerkship of more than 200 students per year, a fourth-year rotation of 60 students per year, a fourth-year ultrasound elective of 60 students per year and multiple fellowship programs.
In addition to his other responsibilities, Muck has serves as a consultant with the World Health Organization, where he has been involved with Basic Emergency Care training in Kabul, Afghanistan, and Moldova in support of Ukrainian provider education. He also developed the Community First Aid Response Course for the WHO, which is being launched in resource-limited areas such as Iraq and East and Central Africa.
Muck served in the U.S. Air Force, with deployments in support of both Operation Iraqi Freedom and as a Critical Care Air Transport Physician in Operation Enduring Freedom. As an Air Force veteran, Muck also serves as the founding medical director of the San Antonio Refugee Health Clinic, which provides free health care for refugees placed in San Antonio from Afghanistan, Nepal, Burma, Iraq and several African countries.
Reflecting his clinical, educational and humanitarian efforts, Muck has published numerous articles on emergency medicine, medical education and improving care for refugees. He has also received many awards and accolades, including the University of Texas Presidential Teaching Excellence Award. His peers named him to Texas Top Doctors for outstanding professional achievement, and the well-loved educator was awarded the GOAT Award – Greatest of All Time Award – by the 2018 graduating emergency medicine residents.
"It was clear that Dr. Muck has a deep commitment to all the missions of the University of Virginia School of Medicine, and we look forward to seeing how he will help us realize the many ambitious goals of UVA Health's first-ever 10-year strategic plan," Kibbe said.
Muck obtained his bachelor's degree from New York's Colgate University, his medical degree from Johns Hopkins University School of Medicine and his MBA from the University of Massachusetts Isenberg School of Management. He will succeed longtime chair Bob O'Connor, MD, MPH, on Sept. 15.
"We are deeply grateful for Dr. O'Connor's incredible tenure and all that he has accomplished," Kibbe said. "He has been a guiding force for UVA Emergency Medicine, and his vision has been instrumental in building the exceptional department it is today."