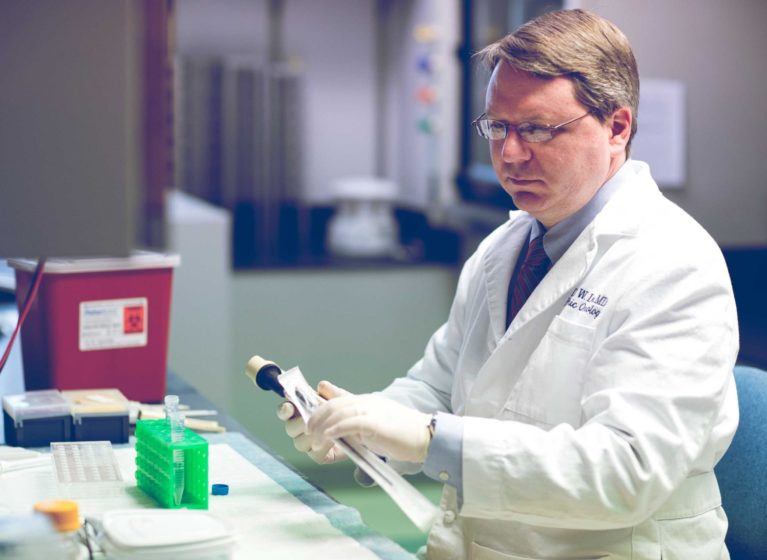 A School of Medicine researcher's pioneering work in childhood cancer has been honored as one of the top 10 clinical research achievements of 2017.
Daniel "Trey" Lee, MD, a pediatric oncologist at UVA's Children's Hospital, has been developing a new gene therapy to battle treatment-resistant leukemia in children and young adults. Known as chimeric antigen receptor (CAR) T-cell therapy, the approach genetically modifies a patient's own immune cells to identify and kill cancer cells.
The Clinical Research Forum, an advocacy group for clinical research, has recognized the groundbreaking work as one of 2017's most important clinical research studies. Lee conducted the research with colleagues while at the National Institutes of Health's National Cancer Institute, in collaboration with Stanford University. He has continued his work since being recruited to UVA, where he is part of the UVA Cancer Center and UVA's Carter Immunology Center.
"So many excellent, high-impact clinical trials are performed every year. To have our work chosen as one of the top 10 in the country is an incredible honor. I am so grateful for our incredible team of investigators, without whom we wouldn't have such an impact on kids with cancer," Lee said. "Our results have paved the way for combination CAR T-cell therapies in leukemia, aimed at overcoming one of CAR therapy's major obstacles – tumors changing their proteins to escape CAR T cells. That we are pioneering this in children, before adults, is amazing."
The Clinical Research Forum honored the CAR T-cell project and nine others at a dinner April 18 at the National Press Club in Washington, D.C.
"This year, we were gratified to see a tremendous increase in nominations, and the level of scientific rigor, quality and innovation was truly outstanding," said Harry P. Selker, MD, chairman of the Clinical Research Forum's Board of Directors. "It was a very difficult decision-making process, but as a result, we can say with confidence that these 10 studies are truly remarkable."
The Clinical Research Forum solicited nominations nationwide. The group's Board of Directors then selected winners based on how innovative the work was in advancing science; how much it contributed to our understanding of disease and/or physiology; and on its potential impact on the diagnosis, prevention and/or treatment of disease. All the studies were published in peer-reviewed scientific journals in 2017.
Clinical Research Excellence
This is the second consecutive year the Clinical Research Forum has honored a researcher at UVA Health System. Last year, the group recognized UVA neurosurgeon Jeff Elias, MD, and his colleague Paul Fishman, a neurologist at the University of Maryland, for their pioneering work with focused ultrasound.
Elias led the research into the use of focused ultrasound as a scalpel-free alternative to traditional brain surgery for essential tremor, a condition that often leaves patients unable to write legibly or eat without spilling. His years of work were rewarded in 2016 when the federal Food and Drug Administration approved the approach as a treatment for essential tremor.
About the Clinical Research Forum
The Clinical Research Forum was created in 1996 to tackle the complex challenges facing clinical research at academic health centers. In the years since, it has brought together leaders in academia, government, the pharmaceutical industry and the information technology industry, drawing on their expertise to advance the group's goals of promoting the understanding of clinical research and increasing support for it.
A complete list of this year's winners is available online.
To keep up with the latest medical research news from UVA, subscribe to the Making of Medicine blog.