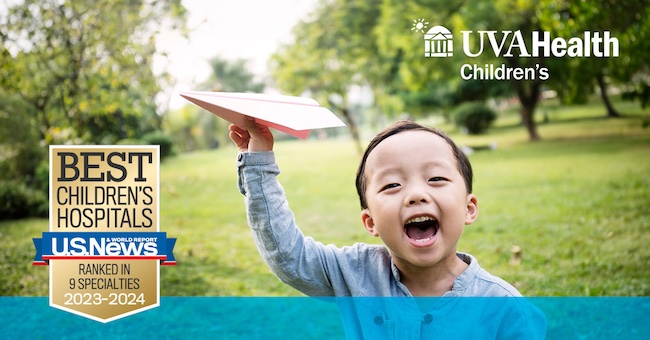 For the third consecutive year, U.S. News & World Report has named UVA Health Children's, part of UVA Health, the No. 1 children's hospital in Virginia.
The publication's 2023-24 "Best Children's Hospitals" guide ranks 9 out of 10 UVA Health Children's specialties among the top 50 of all children's hospitals nationally, proving that UVA Health Children's is truly home to an elite group of compassionate pediatric specialists and care teams. The nine ranked specialties:
"These awards from U.S. News highlight the high-quality, specialized care that our team at UVA Health Children's provides to patients from across Virginia and beyond," said K. Craig Kent, MD, UVA Health's chief executive officer and UVA's executive vice president for health affairs. "As part of our 10-year strategic plan, our goal is to make it even easier for families to access our excellent, complex pediatric care through our expanding clinical collaborations throughout the state."
The U.S. News Best Children's Hospitals guide honors hospitals providing the highest-quality care for children with the most serious or complex healthcare needs. The rankings are based on factors including patient outcomes, the availability of specialized clinics and programs, patient safety and a national survey of pediatric specialists.
"I am so proud to be a part of the team at UVA Health Children's that provides incredible care across a wide range of specialties," said James Nataro, MD, PhD, MBA, chairman of the Department of Pediatrics at UVA. "The care our team provides every day is both truly innovative and inspiring, and this recognition is well-deserved."
UVA Health Children's is continuing to explore ways to expand services to children and families, including a partnership with Sentara Martha Jefferson Hospital to open the UVA Health Children's Neurodevelopmental and Behavioral Care clinic in Albemarle County in mid-2024.
"This clinic will help meet a vital need for the community by expanding access to pediatric neurodevelopmental and behavioral healthcare for our youngest patients," said Wendy Horton, PharmD, MBA, University Medical Center's chief executive officer. "It is yet another example of the commitment of our UVA Health Children's team to serving our community and our families."
About UVA Health Children's
UVA Health Children's provides primary and specialty care in more than 30 specialties throughout the commonwealth and beyond. Located within University Medical Center, UVA Health Children's includes 111 beds, a pediatric emergency department, a Level IV Neonatal Intensive Care Unit for infants and a Pediatric Intensive Care Unit for children younger than 18. The UVA Health Children's Ambulatory Clinics at the Battle Building, which opened in 2014, provide integrated outpatient care to families from throughout the region.