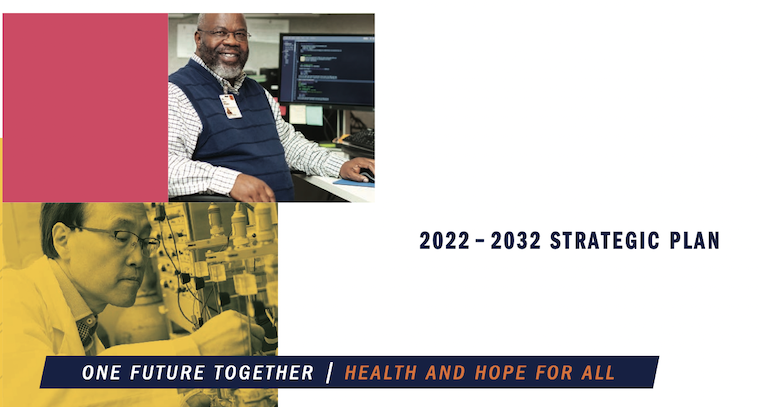 UVA Health will seek to improve access to care by hiring more primary care providers, expanding its statewide specialty care network and making the health system the best place to work as part of its first-ever 10-year strategic plan.
Key pillars of the plan – which seeks to make UVA Health the nation's top public academic health system – are already being launched. For example, the University of Virginia recently announced the launch of the Paul and Diane Manning Institute of Biotechnology to position UVA at the forefront of cutting-edge medicine such as cellular and gene therapies that revolutionize how diseases are treated and cured.
"Fundamental to our future success, UVA Health must be a destination for talent at every level by becoming the best place to work, to learn, and to build a lifelong career," wrote K. Craig Kent, MD, UVA Health's chief executive officer and UVA's executive vice president for health affairs, in the plan's introduction. "Moreover, we will focus on access and service so that all of those in need can receive their care at UVA Health. We will continue to prioritize superior quality of care, which is fundamental to who we are as a healthcare organization."
The plan was developed over more than a year based on input from more than 3,000 people from inside and outside the health system, said Jason Lineen, MBA, UVA Health's chief strategy officer.
"Our ambitious plan for the future is based on an inclusive, highly collaborative process that included both in-person listening sessions and through community input solicited on our website," he said. "Building on UVA's 'Great & Good' strategic plan developed in 2019, we are prioritizing key initiatives based on the feedback we received from the community, including enhanced access to primary care."
Efforts to implement the strategic plan are already under way – here are some of the plan's highlights:
Cultivating Healthy Communities and Belonging for All
Along with expanding access to primary care, UVA Health wants to build stronger relationships with the communities it serves to collaboratively address their most pressing health needs. Planned initiatives include a retail pharmacy in Nelson County as well as new community-based neighborhood clinics and outreach sites. These clinics and outreach sites will build on programs such as WellAWARE, which is working to improve access to care for residents of the Rose Hill and 10th and Page neighborhoods in Charlottesville.
The health system also wants to build on existing efforts to create a workforce that resembles the communities UVA Health serves while providing more local residents with opportunities to build careers in healthcare. New health education programs will include expanding workforce-development programs such as UVA Health's Earn While You Learn program, which provides paid, on-the-job training to launch a healthcare career.
Strengthening UVA Health's Foundation
During the next several years, UVA Health plans to open multiple additional primary care sites throughout the Charlottesville area, Culpeper and Northern Virginia to meet the vastly increasing needs of the health system's patients and workforce. Over the past year, more than 50 physicians have been hired for UVA Health's community medical centers and clinics in northern Virginia and Culpeper.
The health system also plans to expand its "digital front door" to make it easier for patients to access care – for example, by scheduling appointments online more easily.
Expanding Care, Enabling Discoveries for Better Health
UVA Health plans to build a statewide network to expand its ability to provide high-quality care closer to home for all Virginians with serious and complex health conditions. This network will expand on the care now available across Central Virginia as well as Culpeper and Northern Virginia from UVA Health's recent acquisition of three additional medical centers and associated ambulatory clinics. That expanded network will include relationships with other healthcare providers across Virginia, such as UVA Health's strategic clinical affiliation with Centra and a regional collaboration with Children's Hospital of the King's Daughters and Children's Hospital of Richmond at VCU to provide heart surgeries for children.
The health system also aims to create "destination" patient care and research programs that draw patients and top minds in medicine not only from across Virginia but from across the U.S. One area of focus will be translating research discoveries into new and better treatments for patients through initiatives such as the Paul and Diane Manning Institute of Biotechnology, along with creating a statewide clinical trials network.
Over the next 10 years, Kent and other health system leaders expect significant changes in healthcare, including new treatments, better ways to deliver care to patients through technology and an increased focus on prevention and patients being able to receive care without leaving home.
"As an academic health system whose mission is to transform health and inspire hope for all Virginians and beyond, our vision is to be the foremost public academic health system leading this change in the industry," he said.