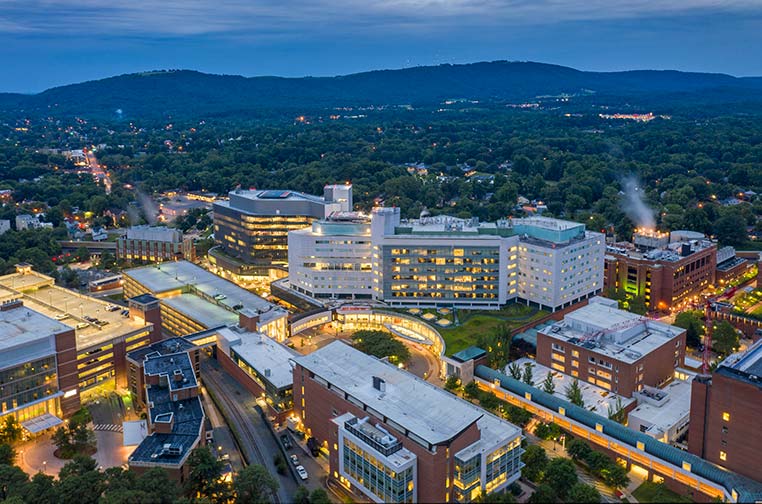 National healthcare publication Becker's Hospital Review has named UVA Health's Heart & Vascular Center to its 2023 list of 100 hospitals and health systems with great heart programs.
In its introduction to this year's list, Becker's said the honored institutions "are renowned for their exemplary heart care, patient outcomes and leading technologies." Institutions that conduct research, such as UVA Health, also contribute to "innovative breakthroughs in the field of cardiology," Becker's noted.
"This award from Becker's not only highlights the excellent patient care provided by our team but the groundbreaking research that will improve care and outcomes for patients across Virginia and beyond," said K. Craig Kent, MD, chief executive officer of UVA Health and executive vice president for health affairs at the University of Virginia. "As part of our 10-year strategic plan, one of our goals is to make this kind of specialized care more accessible to patients throughout the state, as exemplified by our recently formed strategic alliance with Riverside Health System in Eastern Virginia."
Becker's described UVA Health's Heart & Vascular Center as a renowned facility "that provides expert and comprehensive care for patients with cardiovascular disease."
"With a wide range of specialties, including general cardiovascular disease, cardiac imaging, electrophysiology, valvular heart disease and more, the center offers a multidisciplinary approach to optimize treatment for each patient," Becker's said in its description of UVA Health's heart services. "The hospital's cardiology and heart surgery services are nationally recognized, and it has maintained the highest possible rating for aortic valve replacement surgery since 2009. Furthermore, UVA Health is committed to cutting-edge research and has made significant advancements in areas such as cardiac imaging, genetic studies on coronary artery disease, and identifying contributors to high blood pressure."
Christopher Kramer, MD, UVA Health's chief of cardiovascular medicine, said the award highlights the comprehensive care available at UVA Health and the quality of the team providing that care.
"I am proud to be part of a team that is so committed to serving our patients," Kramer said. "This is a well-earned honor for their dedication to providing the highest level of care."